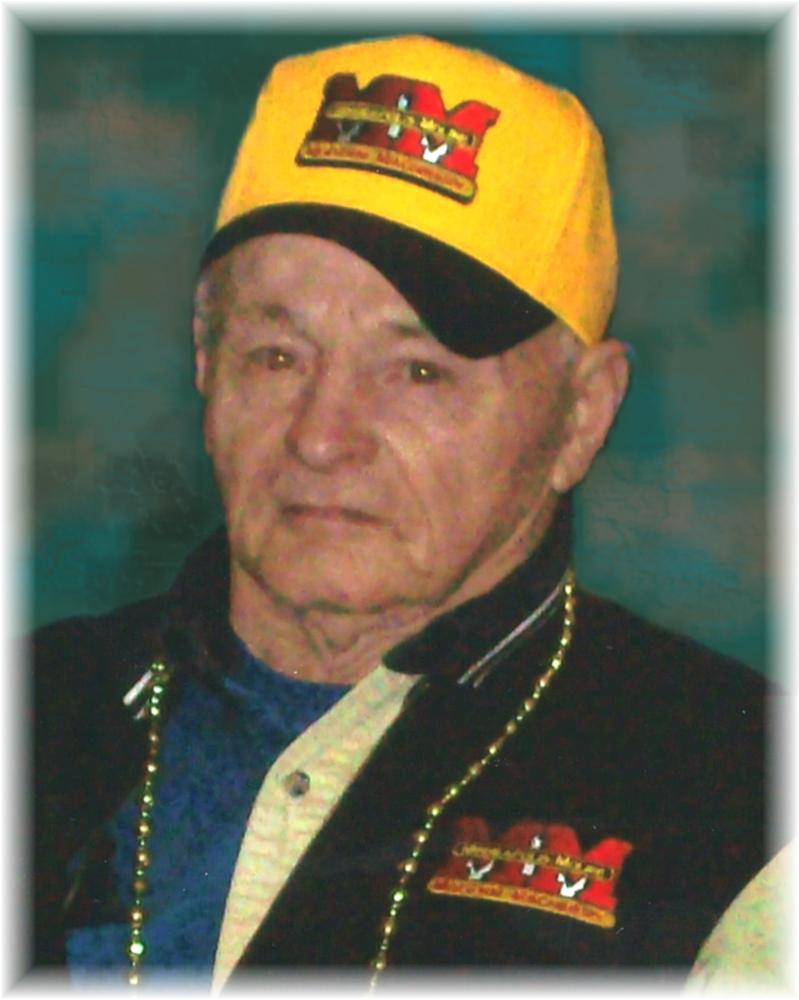 Obituary of Gaylord Bobzien
Gaylord Keith Bobzien and his twin brother, Gaylen, were born September 20, 1931, to Clarence, Sr. and Mabyl (Bryant) Bobzien on their farm in rural Hartley, IA. He grew up on the farm near Hartley and attended country school Grant #8.
On January 25, 1952, Gaylord enlisted in the United States Navy and proudly served his country until August 5, 1954. He was stationed at the naval base in San Diego, CA and departed on the U.S.S. Eldorado for his tour of duty during the Korean Conflict. Following his honorable discharge, Gaylord returned home and continued to farm.
He was united in marriage to Florene Kay Morgan on November 8, 1958 at St. Paul's Lutheran Church in Hartley, IA. Together they made their home on a farm near Hartley where they raised their nine children. In addition to managing his own row crop and livestock operation, Gaylord also owned a custom farming business that included combining, trucking, corn shelling and grinding. He was a skilled fabricator and mechanic; always repairing and modifying his equipment.
In 2004, Gaylord entered his "retirement years", continuing his love for restoration of Minneapolis Moline tractors with his sons. His true passion of farming continued throughout his retirement as he enjoyed working the ground for his son through the spring of 2016. Gaylord was a true steward of the land for over 70 years.
He was a man of routine who thoroughly enjoyed eating dinner in town with his twin brother and having homemade sweets at coffee time. His beloved pets even adhered to his routine. Aside from farming and restoring, and pulling Minneapolis Moline antique tractors, Gaylord enjoyed family get-togethers, traveling, his pets, listening to KICD, where the radio was on in the shed and garage 24 hours a day. Gardening, beautifying his acreage, he loved Mopars, watching The Voice, and Donald Trump on The Apprentice, but more than anything, he enjoyed his work. He will be remembered as a man with a very strong work ethic, resilient, driven, and determined. In everything he did he focused on perfection as he was often heard saying, "I do my work right, and I do it right the first time". Gaylord was a modest man; always teaching, whether instilling his strong values, work ethic or high morals.
Like his son, Duane, his last wish was granted with a trip to Davis, South Dakota where he competed in his final tractor pull, where he pulled his last two full pulls.
Preceding him in death were his sons, Dennis and Duane Bobzien; his parents, Clarence Sr. and Mabyl Bobzien; siblings: twin brother, Gaylen Bobzien, Clarence Bobzien, Jr., Karen Bobzien, Ila Hurtig, Joyce Dunn, Mary Giep, and Cheryl Bobzien.
Those left to cherish his memory are his wife of 58 years, Florene; his children: Donna Bobzien Wade of Fulton, MO, Donald (Cookie) Bobzien of rural Hartley, IA, David Bobzien (Alice Kvigne) of Davis, SD, Doug (Sherri) Bobzien of Newkirk, IA, Deb Bobzien (Mark Polson) of Royal, IA, Dan (Alicia) Bobzien of Cape Coral, FL, and Dawn Bobzien (Ryan DeBerg) of Primghar, IA, 13 grandchildren, 12 great-grandchildren: siblings: Joann (Henry) Rozema of Marshfield, WI, Gale Bobzien of Maysville, MO, Jon Bobzien of Des Moines, IA, Darrel (Janet) Bobzien of Odebolt, IA, Gary (Pat) Bobzien of Maryville, MO; many other relatives, neighbors and great friends.
Celebration of Life
Gaylord K. Bobzien
Born ~ September 20, 1931
Died ~ November 13, 2016
Age ~ 85 years 1 month 24 days
FUNERAL SERVICE
Thursday, November 17, 2016 ~ 10:30 a.m.
St. Paul's Lutheran Church
Hartley, Iowa
Officiating ~ Pastor Chris Nitzel
Organist ~ Donna Ahlers
Ushers ~ Dennis Larsen and Raymond Berning
Musical Tribute
Dylon Larsen
"I Can Only Imagine"
"Amazing Grace"
Congregational Singing
"The Old Rugged Cross"
"How Great Thou Art"
Pallbearers
Jacob DeBerg Jeremy Bobzien Lance Wade
Dustin Polson Mark Polson Ty Hofman Doug Bobzien Ryan DeBerg Keith Bobzien
Honorary Pallbearers
Amber Courtney Kristal Bobzien Amanda Von Holdt
Jaden Bobzien Chey Hofman McKenzie Schaap
Kristina Berning
Military Graveside Rites
Arthur W. Kirchhoff Post #288
Hartley, Iowa
Burial
Pleasant View Cemetery
Hartley, Iowa