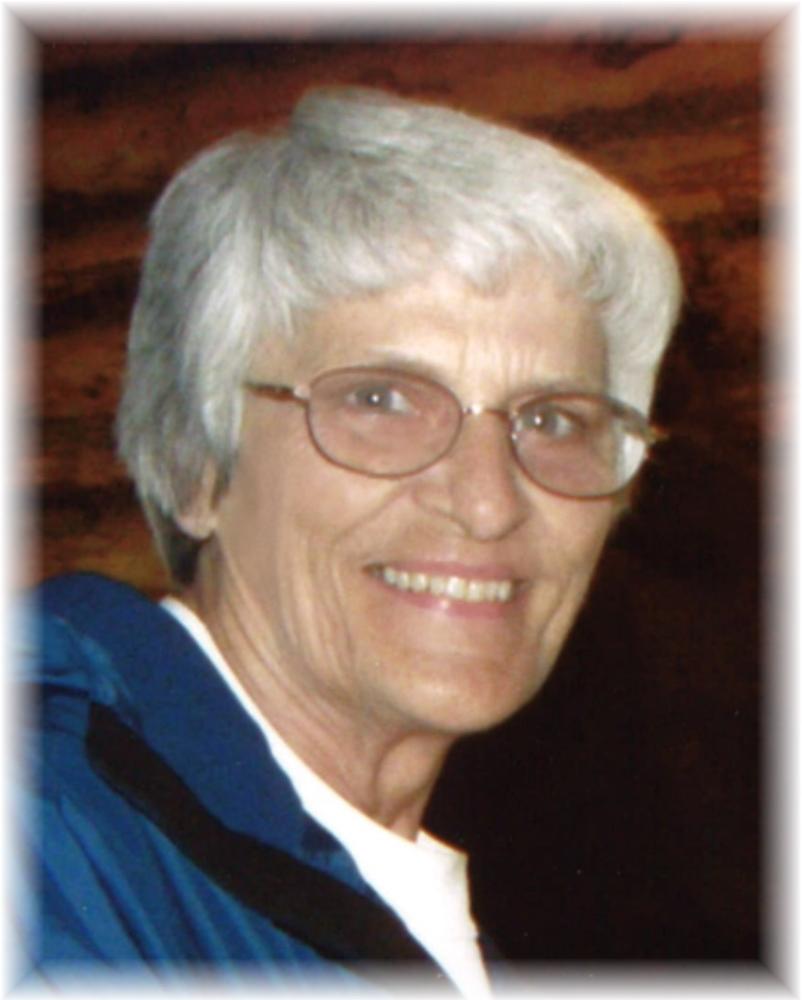 Obituary of Evelyn Guetschow
Memorial Tribute
The youngest child of Frank H. and Cora (Struyk) Juber, Evelyn Marie was born in the Juber home at Melvin, Iowa on November 11, 1936. Three siblings, Harold, Leila and Harvey were on hand to welcome her into the busy family. Evie was baptized and confirmed at the Melvin United Methodist Church. During her childhood she developed a love of animals which continued throughout her lifetime.
While a student at Melvin Consolidated School, she participated in girls' glee club, chorus, annual staff, declamatory and played saxophone in the band. Following graduation in 1955, she attended Methodist Hospital School of Nursing in Sioux City, Iowa where she earned a registered nurse diploma in 1958, and began her career at Municipal Hospital in Worthington, Minnesota.
Wedding bells rang on April 26, 1959 when Evelyn married her high school sweetheart, Jerry Allen Guetschow, at Melvin. Their first home was in Altus, Oklahoma where Jerry was stationed with the United States Air Force and Evie was employed at Jackson County Hospital. Following his discharge from the service in 1962, the couple moved to Kansas City, Missouri where Evelyn continued her nursing career in both office and hospital settings, retiring from North Kansas City Hospital in 1989.
Avid sports fans, the Guetschows followed the Chiefs football team for years, enjoying season tickets at Arrowhead Stadium and for a time, traveling to away games. Beloved pets during those years were a horse, Damascus and canines,YoYo, Baron and Midnight.
Following her retirement, Evie joined the North Kansas City Hospital Auxillary, volunteered her time in various capacities and served a term as president. As a double amputee, she provided hope and encouragement to others facing a similar situation by her own cheerful and determined example. While at home, she loved to read, did various types of handwork, enjoyed playing bridge, birdwatching and rose gardening. She was a long-time member of North Cross United Methodist Church.
In 2005, the couple moved to a new home in Smithville, Missouri where family and friends continued to be welcome at any time.
Following a surgery in December of 2010, Evie's health began a gradual decline, necessitating a move to Sanborn's Prairie View Campus in May, 2014. Following a brief illness, she passed away peacefully the evening of November 9, 2016 at St. Luke's Hospital in Sioux City, Iowa just two days shy of her 80th birthday.
Evelyn was preceded in death by her parents, Frank and Cora Juber; brother, Harold Juber; and brother-in-law, Bernard Lyman.
Left to cherish her memory are her husband, Jerry; sister, Leila Lyman, both of Sanborn, IA; brother, Harvey (Pat) Juber of Melvin, IA; sisters-in-law: Joyce Juber of Dubuque, IA, Marion Dvorak of Melvin, IA, Phyllis Dean of Kansas City, MO, and Arlene Guetschow of San Jose, CA; one aunt, Leona Bogaard of Sioux Falls, SD; many nieces, nephews, other relatives and friends.
Evie will always be remembered for her generous spirit, caring ways, brilliant smile, and her love of family.
Celebration of Life
Evelyn M. Guetschow
Born ~ November 11, 1936
Died ~ November 9, 2016
Age ~ 79 years 11 months 29 days
MEMORIAL SERVICE
Saturday, November 19, 2016
11:00 a.m.
St. Andrew's United Methodist Church
Sanborn, Iowa
Clergy
Rev. John Mutombo
Chaplain Steve Pohlman
Organist
Fay Schall
Musical Tribute
Bruce Juber ~ Lee Schmidt
"On Eagle's Wings"
"The Lord's Prayer"
Congregational Singing
"Now The Day Is Over"
Ushers
Gaylen Roskens ~ Rex Raymond
Interment
(at a later date)
Baker Township Cemetery
Melvin, Iowa