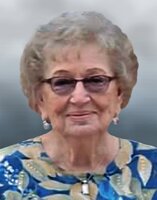 Helen Jean Strubbe
Gerrit and Johanna (De Kruif) Van't Hof joyfully welcomed in the new year with the birth of their second daughter, Helen Jean on January 1, 1930. She was born in Sanborn, IA, and grew up in that community along with her older sister, Alice. She received her education at Sanborn Community School, graduating with the class of 1948.
Three weeks later, Helen became the bride of Glenn Ernest Strubbe on June 12, 1948, at the American Lutheran Church in Melvin, IA. They began farming together northwest of Sanborn, raising their three children there and calling it "home" for the next 33 years.
Not only was Helen an active partner with Glenn in their farming operation, she managed to keep their household running smoothly and stayed involved with the kid's school, church, and 4-H activities. Over the years, she had also been employed as a switchboard operator with the Sanborn Telephone Company, a salesclerk at Wolff's Department Store in Sheldon, IA, and gathered grain samples for a company out of Ft. Dodge, IA. In later years, she and Glenn operated the "G & H Chuckwagon", providing food and refreshments at many farm and household auctions around the area. When Glenn retired from farming in 1988, he and Helen moved to Sanborn and began to enjoy what town life had to offer. They were fortunate to celebrate their 65th Wedding Anniversary in June of 2013, before Glenn's death the following month.
Helen was an active member of St. John's Lutheran Church, the T.I.M. Club and the Mi'Ono Club, all in Sanborn. She had been on bowling and golf leagues, was a meticulous seamstress and quilter, and always looked forward to an afternoon of cards and coffee with her good friends. As her family grew to include grandchildren and great-grandchildren, some of Helen's most treasured times were those spent on fishing trips with them, or just congregating around her kitchen table…as long as they were together.
On Tuesday, February 14, 2023, Helen passed from this life at the age of 93 years, and is now reunited with loved ones who have gone before: her husband, Glenn; daughter, Barbara Strubbe; son-in-law, Lynn Kleve; her parents, Gerrit and Johanna Van't Hof; and her sister, Alice.
Keeping her memory close at heart are her children: Greg and his wife, SuAnn Strubbe of Graceville, MN, and Sandra Kleve of Sanborn, IA; five grandsons; ten great-grandchildren; five great-great-grandchildren; a host of other relatives and dear friends.
There are no formal visitation hours scheduled.