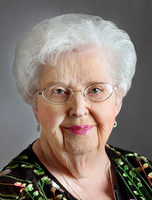 Darlene Joyce Lux
Darlene Joyce (Bobolz) Lux, daughter of Ernest and Lucy (Ehlers) Bobolz, was born August 30, 1929, in Cherokee County, Iowa. She was baptized on September 15, 1929, and confirmed in the Lutheran faith at Bethel Lutheran Church in Sutherland, Iowa. Her Christian faith was most important to her throughout her life. She attended schools in Calumet, Hartley, and Moneta, Iowa, graduating from Moneta High School with the class of 1948.
On May 24, 1953, Darlene was united in marriage to Dale Lux at St. Paul's Lutheran church in Hartley. Dale had recently been discharged from military service with the United States Army. The couple was blessed with two sons: Steve and Kelly.
For a major portion of her life, Darlene had been a member of St. Paul's Lutheran Church. She belonged to the ladies aid, holding various offices, was a member of LWML, and sang in the church choir for many years. She was a former member of Omega Township Farm Bureau Ladies, the Y'adnom Club since 1951, and was also a former member of the Northwest Iowa Harness Club. She served as the secretary/treasurer of the Moneta Reunion Committee for several years as well.
Darlene had a flair for cake decorating and made many wedding, birthday and anniversary cakes for her family over the years. She also enjoyed tending her flower beds, putting most of her attention towards the beautiful stems of gladiolas she carefully planted each spring. She always put in a big vegetable garden and canned or froze the produce to share with family or use herself over the winter. When she couldn't be outside, Darlene spent many contented hours working on jigsaw puzzles or baking her family's favorite cookies for them. Her sons, grandchildren and great-grandchildren remained a special joy to her.
On Wednesday, February 1, 2023, Darlene passed away at Community Memorial Health Center in Hartley at the age of 93 years. Preceding her in death were her husband of 49 years, Dale Lux; her parents, Ernest and Lucy Bobolz; father and mother-in-law, Bill and Edna Lux; two brothers: Leon Bobolz and Curt Bobolz; a brother and sister in-law, Adella and Donald Baumgarn; brothers-in-law: Roy Van Houten and Rod Thomsen; and nephews: Jeffrey Shinkle and Doug Baumgarn..
Surviving her are sons: Steve Lux and special friend, Tammy, and Kelly Lux and his wife, Linda; grandchildren: Mathias Lux and his wife, Laura, Adam Lux and his wife, Joni, Brian Lux, Lindsey and her husband, Adam Ruschmann; step-grandchildren: Chad Smit and his wife, Amy, Sara Smit, Jill Eddy and her husband, Dan; great-grandchildren: Trinity, Jasmine, Jordan and Graham; step-great-grandchildren: Elizabeth and her husband, Kent VanVeldhuizen, Ezra, Piper, Cameron, Trenton, Cale, Taya, Brenna, Noah, Avery, Kyan, Kolt and Kane; great-great-step-grandchildren: Lincoln, Kennedy and Cash; two sisters: Janet Thomsen, Linda and Larry Tewes; brother, Gale and Carol Bobolz; sister-in-law, Lois Deiterman; sisters and brothers-in-law: Janet and Dan Shinkle, Joyce and Otto Wagner and LaVonne Van Houten; many nieces, nephews, cousins and numerous relatives and friends.