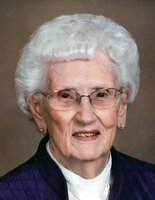 Helen Marie Miller
Helen Marie Miller, only daughter of Louis A. and Josephine (Fahrenkrog) Benz, was born April 10, 1926, in rural Melvin, IA. She was baptized and confirmed in the Lutheran faith at American Lutheran Church in Melvin. Helen grew up on her parents' farm near Melvin along with her brothers, Russell and Donald. She received her education at the Melvin Consolidated School, graduating with the class of 1943. Following graduation, Helen furthered her education by attending business school in Sioux City, IA.
On November 14, 1948, Helen became the bride of Roger Dallas Miller at the American Lutheran Church in Melvin. During their married life, Roger had worked with John Deere farm equipment in several Iowa locations including Melvin, Ankeny, Harlan, and Hartley. They had relocated to Hartley in the fall of 1980 and made it their home ever since.
Along with maintaining the household and keeping up with school activities of their two daughters, Mary and Kay, Helen was also employed as a secretary/bookkeeper for various businesses in the communities where they had lived, retiring in 1998. She enjoyed visiting with people and making new acquaintances over a cup of coffee. With her caring demeanor and warm, friendly smile, a stranger soon became a friend.
Roger and Helen enjoyed visiting their daughters and staying connected with other family members. Helen's favorite pastimes were playing cards, reading, and knitting. She was a member of St. Paul's Lutheran Church in Hartley and participated in the Friendly Circle for many years, serving as the Secretary/Treasurer.
On Monday, October 24, 2022, Helen passed from this life at the age of 96 years. She now joins loved ones who had gone before: her husband, Roger (2009); her parents, Lou and Josie Benz; brothers: Russell and his wife, Henrietta Benz, and Donald Benz; mother and father-in-law, Harry and Emma Miller; brothers-in-law: Rev. Russell Miller, and Verlis and his wife, Wilma Miller; and sister-in-law, Mavis and her husband, Merland Wackerbarth.
Keeping her memory close at heart are her daughters: Mary Miller of Iowa City, IA, and Kay and her husband, Mark Weston of Estes Park, CO; sisters-in-law: Eilene Benz of Sioux Falls, SD, Margaret Miller of Verona, WI, and Donna and her husband, Robert Harms of Keller, TX; many nieces, nephews, other relatives and friends.