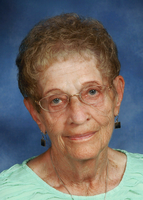 Marilyn Ann Peters
Marilyn Ann "Sissy" Peters was born on February 13, 1935, in Hartley, IA, one of nine children born to Arthur and Frances (Epping) West. She grew up in the Hartley area along with her brothers: Bob, Don, Darrel, and Chuck, and sisters: Maxine and Marcella. She attended country school for a short time, then completed her education at Hartley, graduating from Hartley High School with the class of 1953.
Following graduation, Marilyn was employed as secretary/bookkeeper at Botsford Lumber Company located in Hartley. In late October of that year, she met her future husband, Dale "Buzz" Peters, who had recently returned home after two and one-half years as a POW during the Korean Conflict.
On April 26, 1954, Marilyn and Buzz were united in marriage at St. Joseph's Catholic Church in Hartley. They made their home on a farm north of Hartley where they lived and worked together for almost 56 years. Two children completed their family: Debbie and Kelley. Along with managing the household and taking care of her family, Marilyn was a "hands-on" farm wife. She helped Buzz with his farming operation as she was able, and especially loved to be out in the fresh air and sunshine cultivating! Not one to sit idle, Marilyn had also worked at the Iowa State Liquor Store in Hartley, did nightly custodial work at the State Bank in town for 14 years, and helped Kelley manage the construction business for 25 years.
She may have been a hard worker, but Marilyn also knew how to have a good time - and playing cards was one of her favorites! Wild Pinochle hands were dealt and played out over the years, sometimes going into the wee hours of the night. What started out as a relaxing game among friends could turn into every man (or woman) for themselves by the time it was over…as Buzz, Mort Rosenboom or Bill Loder could attest to. If Buzz started dozing off and not paying attention, Marilyn might reach over and "help" him play his next card, usually ending up in her favor. The guys would look at Marilyn in amazement, and all she had to say was, "Well, he shouldn't have fallen asleep."
Marilyn was a life-long member of St. Joseph's Catholic Church in Hartley where she participated in the Ladies Aid and other church functions. Her family was at the center of her world, and she loved spoiling her two grandkids, Chris and Dalen, and her great-granddaughter, Blakely.
After suffering with health issues the past several months, Marilyn passed peacefully from this life with her family by her side. She was 87 years of age.
Keeping her memory close at heart are her children: Deb (Bud)) Leonard of Birmingham, AL, and Kelley Peters of Hartley, IA; grandsons: Chris Rosenboom of Birmingham, AL, and Dalen Peters of Hartley, IA; one great-granddaughter, Blakely Rosenboom of Birmingham, AL; other nieces, nephews and friends.
Marilyn is preceded in death by her husband, Buzz Peters; her parents, Art and Frances West; her two older sisters; six brothers, two of whom were called to Heaven as infants; other family members and many dear friends.