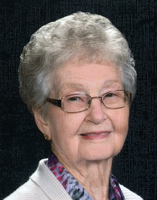 Dorothy Martha Van Kley
Dorothy Martha Van Kley, one of three children born to Henry and Arvilla (Techen) Breuer, came into the world on April 10, 1935 in Hull, Iowa. She spent her youth in the Hull area, attending country school through the 8th grade.
St. Paul Lutheran Church in Hull was the setting for the marriage of Dorothy to Willis "Bill" Van Kley on October 4, 1955. The new couple made their home in Sanborn, Iowa where they would live their entire married life. Three children made their family complete: Rhonda, Randy and Keith.
Being a stay-at-home Mom, Dorothy was there when her family needed her. She had always liked to bake, so there was usually something good to eat when everybody got home at the end of the day. Not only did she maintain their household, but was an Avon representative for several years, making new friends and acquaintances. Since she "knew her way around the kitchen", it was a natural fit for Dorothy when in 1983, she began working at the Sanborn Community School as a hot lunch cook, retiring in 1997. Now, with more free time, she and Bill would quite often take off on short trips, spending time with family and friends or visiting their granddaughter, Katie. She was a member of First Reformed Church in Sanborn and participated in various activities there. Of course, there was never too much going on that Dorothy couldn't fit in a cup of coffee with her "coffee group"!
In February of 2020, Dorothy made her new home at Prairie View, located right in Sanborn. She enjoyed sitting outside taking in the fresh air or doing Word Search and jigsaw puzzles. Favorite TV shows included the RFD channel, Molly B., and game shows. She looked forward to "Happy Hour" once a month, sharing a Coors Light with her dear friend, Bertha.
On August 17, 2022, Dorothy passed from this life at the age of 87 years. She was preceded in death by her husband, Bill in 2014; her parents; son, Randy in 2006; brothers: Marvin Breuer and Ronald Breuer.
Left to cherish her memory are her children: Rhonda and her husband, Mike Reekers of Spirit Lake, Iowa, and Keith Van Kley and his special friend, Tammy Bergstrom of Melvin, Iowa; her granddaughter, Katie and her husband, Jesse Eckard; great-granddaughter, Jada Eckard all of Terril, Iowa; sister-in-law, Karen Breuer; other relatives and many friends.