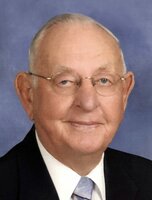 Robert Bernard "Bob" Knock
Robert Bernard "Bob" Knock was born October 9, 1930, to Ben B. and Freda S. (Graves) Knock in Melvin, IA. He was a life-long member of the American Lutheran Church in Melvin where he was baptized and confirmed. He received his education at the Melvin Community School, graduating with the class of 1949.
Following high school, Bob served his country with the United States Army, spending two years overseas in Germany. He was honorably discharged in 1954 and returned home to farm with his father.
The United Methodist Church in Hartley, IA was the setting for the marriage of Bob and Norma Jean Huntting on August 22, 1954. They began their life together on a farm north of Melvin and would add two children to complete their family: Bradley in 1955, and Shelley in 1959. In 1998, Bob and Norma decided to retire and moved into the town of Melvin where they continued to make many memories with their kids and grandchildren.
Over the years, Bob had served on church council, sat on the local elevator and Rural Water boards and was a member of the Melvin American Legion. Having been a sports enthusiast his entire life, he not only played baseball all through high school, but became a die-hard fan of the St. Louis Cardinals. In later years, Bob traded his scoop shovel for a golf club and enjoyed the fresh air and sunshine while playing 9 holes (or more) of golf. In the summer, the whole family escaped to their lake home at Okoboji where Bob could just relax and do a little fishing. He and Norma both loved to go dancing and made lasting friendships through card club acquaintances.
When Norma passed away in 2011, Bob remained in their home in Melvin, making occasional trips to visit his daughter, Shelley who lived in Watertown, SD. For the last two years, he lived there with her, enjoying many evenings of hot card hands or dice games with special neighbors, Lisa Holler and Robert DiRosc. Life was good.
On Saturday, July 23, 2022, Bob joined his wife, Norma and his parents, Ben and Freda Knock who had gone before. He was 91 years of age.
He is survived by his children: Brad (Carol) Knock of Melvin, IA, and Shelley Hardie (special friend, Bob) of Watertown, SD; six grandchildren: Tracy (Jamin) Breuer, Katie (Matt) Smith all of Tea, SD, Haley (Juan) Garcia of Washington, DC, Courtney, Kelsey, and Heath Hardie all of Sioux Falls, SD; four great-grandchildren: Abby Breuer, Kallie Breuer, Miles Smith, and Grace Smith all of Tea, SD; one sister, Barbara (Lyle) Muilenburg of Hartley, IA; other relatives and friends.