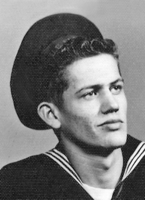 Lyle Alvin Mayer
Lyle Alvin Mayer was born May 14, 1935 in Hartley, IA, the son of Alvin John and Esther (Phillip) Mayer. He was raised on a farm near May City, IA and received his early education through the country school system at Harrison Township School. Following 8th grade graduation, he attended the Hartley Public School in Hartley, IA.
When he was only 14 years old, Lyle was asked to try out for the Brooklyn Dodgers as a pitcher. Consequently, he was offered a position, but because of his young age, he was unable to sign his own contract. Instead, he went on to play minor league baseball around the state of Iowa.
In September of 1953, Lyle joined the United States Coast Guard, taking his basic training in Cape May, NJ. Over the next four years, he was stationed at Fire Island, NY, Manitowoc, WI, and Two Rivers, WI. On April 10, 1955, Lyle was united in marriage to Audrey Rae Mundt; she would join him for the remainder of his tour of duty which ended in 1957. They welcomed Mark, the first of their five children, on November 2, 1956, while Lyle was still serving with the Coast Guard. Following his honorable discharge, Lyle and Audrey made their home on a farm north of Melvin, IA where they added four more children to their family: Michael, Jodene, Mitchell, and Matthew.
Lyle thoroughly enjoyed life on the farm – during his ag career he raised hogs, cattle, corn and soybeans. As part of a small, tight-knit community, he could always be counted on to lend a hand should a neighbor need help with his farming operation.
Over the years, Lyle's free time was spent hunting, golfing, bowling, riding motorcycle, playing ball, and coaching Little League. He was also his kids' biggest fan as he followed them through their school sporting events. His family will forever recall all his humorous quips and phrases they had lovingly referred to as "Lylisms"; things like, "Whatever…" or "The first hundred years are the hardest."
In 2000, Lyle retired from farming. He and Audrey moved into their new home in Hartley in 2008 where they have lived ever since.
On July 16, 2022, Lyle passed away after a long battle with congestive heart failure. Left to cherish his memory are his wife of 67 years, Audrey of Hartley, IA; five children: Mark (Shandra) Mayer of May City, IA, Michael (Leisa) Mayer of Lake City, IA, Jodene (Kurt) Knoner of Algona, IA, Mitchell (Whitney) Mayer of Chicago, IL, and Matthew Mayer of Spirit Lake, IA; 11 grandchildren: Shayne Mayer, Shawn Mayer (Yuyo Benmergui), Nate (Angie) Mayer, Jessica (Aaron) Weber, Jacob Mayer, Chris (Jacky) Lucas, Megan (Mike) Sabin, Zach (Hannah) Lucas, Gretchen Mayer, Noah Mayer, and Sam Mayer; eight great-grandchildren; a brother, Roger Mayer of Haines City, FL; other relatives and many friends.
Preceding him in death were his parents, Alvin and Esther Mayer; in-laws, Albert and Leona Mundt; his sister, Fern (Steven) Siebersma; and his dear daughter-in-law, Angie Mayer.