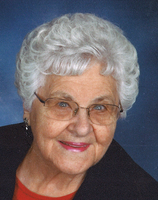 Kathleen Anne "Katy" Vander Velde
Kathleen Anne "Katy" Vander Velde was born November 9, 1925 at Hull, Iowa, the daughter of Bernie and Effie (Moss) Van Heukelom. She spent her early years in the Sioux Center, Iowa area where she received her education, graduating from Sioux Center High School with the class of 1942.
For the next two years, Katy attended Northwestern Junior College in Orange City, Iowa where she earned her teaching certificate. From 1944 to 1946 she taught 5th and 6th grade students at Linn Grove, Iowa.
On June 24, 1946, Katy became the bride of Kenneth Vander Velde who had just been discharged from the Army Air Corps in February. The Little Brown Church in Nashua, Iowa was the setting for the double wedding ceremony uniting Kenneth and Katy, and Kenny's sister, Eunice and Don Kroese.
Sanborn, Iowa became their home until Kenny and Katy moved to the Vander Velde farm in January of 1947. They would spend their entire married life here, farm together as partners, and raise their four children: Keith, Nadeen, Faye, and Marlin. Katy thoroughly enjoyed life in the country. Not only did she maintain her household and manage the big vegetable and flower gardens, she also worked alongside Kenny and played a major role in their farming operation.
While a member of the First Reformed Church in Sanborn, Katy served as a Sunday School and Catechism teacher, and participated in the women's Circle and Guild. Reading and studying the Bible had always been an important element of Katy's day and was something she continued to do after joining the Sanborn Christian Reformed Church. She had also been a member of the 20th Century Club in Sanborn.
Following Kenny's passing in 1978, Katy remained on the farm until 1981 when she moved into the town of Sanborn. Having been a seamstress her entire life, it was a natural fit when she began working for Letty's Drapery located near Sanborn. She purchased the business in 1997 and took on garment repair and alterations as well. Her days were usually spent at the sewing machine, but when she did have some free time, Katy enjoyed oil painting or doing chalk drawings.
In June of 2016, Katy became a resident of Prairie View Nursing Home in Sanborn. The sewing machine was replaced with crochet hooks and quite often, she'd have a project in her lap while watching her favorite game show. Her hands were always busy creating, but it could easily be set aside if it meant spending precious time with her family and beloved grandchildren.
On Tuesday, July 5, 2022, Katy joined those who had gone before her; she was 96 years of age. Left to cherish her memory are her children: Keith (Chris) Vander Velde of Oxford, WI, Nadeen (Terry) Hill, Faye (Fred) Anema, and Marlin (Linda) Vander Velde all of Sanborn, IA; 10 grandchildren; 23 great-grandchildren; other relatives and friends.
She was preceded in death by her husband, Kenneth Vander Velde; her parents, Bernie and Effie Van Heukelom; her sister, Ruth (John) Van Maanen; sisters-in-law: Eunice (Don) Kroese and Glenice (Wayne) Lamkin.
Memorials given in remembrance of Katy will be directed to the
Crossroads Prison Ministry