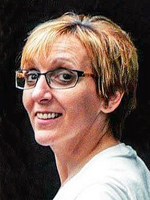 Marcia Ray "Marcy" Embrey
Marcia Ray "Marcy" Embrey, was born September 7, 1969 in Hartley, Iowa to Jack and Janyce (Lage) Marco. She grew up in Hartley, the middle child, connecting her younger sister, Mindy, and her older sister, Missy. Her family moved to Plano, Texas where she met her soul mate, Kenneth Embrey, on a blind date; they were married there on February 14, 1987. The new couple moved to Kentucky for a short time and then to Hartley where they raised their two sons, Stephen and Matthew.
Marcy loved being a mother and grandmother. She was able to be at home with her young boys while operating an in-home daycare. She then embarked on a 20-year career as a corrections officer at the O'Brien County jail in Primghar Iowa. While she enjoyed her job, Marcy's family meant everything to her. She had a great sense of humor and had a way of making everything she was involved with a lot more fun. Spending time with her grandchildren, fishing, cycling, and messing around in her flower garden were some of the things she enjoyed most.
Marcy touched many lives with her generosity and passion for life. It was very important to her, and Kenny, to host a huge Thanksgiving dinner every year for all their family and friends. It was so well attended, they had to move the venue to their garage!
On Monday, June 27, 2022, Marcy died peacefully, surrounded by her family; she was 52 years of age. Preceding her in death were her grandparents: Virgil and Grace Lage, and Henry and Alice Marco; her mother-in-law, Mary Embrey; and brother-in-law, Joey Wayne Embrey.
Marcy will forever be missed by her husband, Kenneth Embrey; their sons: Stephen (Kelly) Embrey and Matthew Embrey; four granddaughters: Addison, Maddy, Hannah and Olivia; her parents, Jack Marco and Janyce Marco; sisters: Missy (Mike) O'Neil and Mindy (Scott) Nasers; she will live on in the hearts of her many nieces, nephews, family, and friends.
We love you, Marcy!!! You were the best wife, mom,
grandma, daughter, sister, and friend.