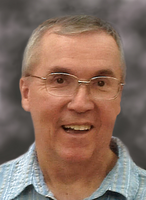 Duane Dean "Dewey" Daggett
Duane "Dewey" Daggett, son of Gary and LaVonne (Vos) Daggett, was born May 24, 1958, in Sheldon, Iowa. He grew up in Sanborn, Iowa and attended the Sanborn Public School, graduating with the class of 1976.
Following high school, Dewey was employed with Graves Construction Company based in Melvin, Iowa. In June of 1979, he was involved in a motorcycle accident from which he sustained serious injuries. He remained a patient at Sioux Valley Hospital in Sioux Falls, South Dakota from June until August of that year. He was then transferred to Minneapolis, Minnesota where he resided at the Sister Kenny Institute until March of 1980. His parents brought him back home for a time before he was able to move to Village Northwest Unlimited in Sheldon, Iowa – a place he called "home" for the next 40 years. Since 2022, Dewey has been a resident at Happy Siesta Health Care Center located in Remsen, Iowa.
If you ever heard Dewey laugh, it made you want to laugh right along with him – it was contagious. His beautiful smile could light up a room. He made people happy with his exuberant "love-for-life" attitude, and he never gave up no matter what obstacles life put in his way. He was a quiet inspiration to many.
Fall football season kept Dewey busy watching the schedule to catch an Iowa Hawkeye or a Kansas City Chiefs game. Of course, none of that mattered if the Dallas Cowboys were playing. Always an avid fan, he was able to actually attend live games for each team organized through Village Northwest!
On Saturday, June 18, 2022, Dewey left this life at the age of 64 years. He now joins his father, Gary Daggett; grandparents: Frank and Sarah Daggett and John and Jessie Vos; and other family and friends.
Left to cherish his memory are his mother, LaVonne Daggett; brothers: Dan (Linda) Daggett and Doug (Sheila) Daggett; a sister, Deb (Fred) Glaze; 12 nieces and nephews and their spouses; 25 great-nieces and nephews; his special friend, Dianne Ruyter; other relatives and friends.