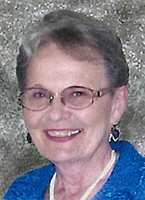 Florence Marie Hansen
Florence Marie Hansen passed away on Saturday, April 23, 2022, at the Community Memorial Health Center in Hartley, Iowa. She was born June 5, 1932, to Fred and Marguerite (Mosher) Soop of Sanborn, Iowa. Florence lived her youth in Sanborn and graduated from Sanborn High School in 1950. She was lovingly called "Sis" by her family and close friends.
On December 10, 1950, Florence was united in marriage to Robert E. "Bob" Hansen of Hartley at St. Andrews United Methodist Church in Sanborn. Except for five years, Florence and Bob made their home in Hartley where she was an active member of the Trinity United Church of Christ. She was also a member of P.E.O., Eastern Star, and The National T.T.T. Society. For several years Florence ran a daycare in their home where she became like a second mother to many of the children in her care. She enjoyed being a librarian at the Hartley Library and served many years on the library board. Florence was a voracious reader and was never without a book beside her favorite chair. Another of her favorite activities was playing contract bridge where she was well known for her skill and sharp intellect.
Florence is survived by her four boys: Richard and Donna Hansen of Hartley, Robert and Laura Hansen of Greeley, Colorado, Russell Hansen of Hartley, and Randall and Marlene Hansen also of Hartley; three granddaughters: Tara (Alan) Papendorf, Rachel (Dustin) Woodworth, and Katie (Malaki) Wills; three great-grandchildren: Kinsley Papendorf, Oakley Grace Wills, and Quintin Woodworth; one sister, Virginia Dolphin of Hartley; and many nieces and nephews whom she also loved.
She was preceded in death by her husband, Bob; her parents; and two sisters: Daisy and Lillian.