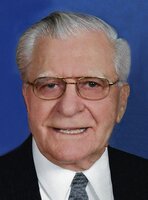 Cloy William Hirt
Cloy Hirt of Hartley, IA
passed away on Wednesday, April 6, 2022
at Community Memorial Health Center in Hartley.
Services will be held at a later date.
The Hartley Funeral Home in Hartley, IA
will be handling the arrangements.
Cloy William Hirt, the son of Walter and Anna (Goering) Hirt, was born at his grandparents' (George and Bertha Hirt) farm near Hartley in O'Brien County, Iowa, on June 10, 1924. He passed away at the Hartley Community Memorial Health Center on April 6, 2022, reaching the age of 97 years, 9 months.
At the age of five, Cloy moved with his family to the farm his parents had purchased on Highway 18, east of Hartley. He graduated from Hartley High School in 1941 and continued to farm with his father for several years. He was baptized and confirmed in St. Paul's Lutheran Church in Hartley. On April 9, 1944, he and Betty Brehmer were married. They farmed south of Hartley for ten years before purchasing their own farm two miles north of Moneta, Iowa. Thirty-five years later they retired from farming and moved to the home they had built on West Okoboji Harbor at the Iowa Great Lakes. They became members of Immanuel Lutheran Church in Spirit Lake, Iowa.
Mr. Hirt was preceded in death by his parents; his brothers: Dale and Blaine Hirt, sister, Ruth Ann; brother-in-law, Dr. Duane Wehler; sister-in-law, Kathryn Jane Hirt; niece, Lisa Bojens; three nephews: Bradley Hirt, Markham Hirt, and Bill Wehler; and a great-great grandson, Caden Diersen.
Survivors include his wife of 78 years, Betty; two daughters and their husbands: Jennene and Glenn Maurer of Sheldon, Iowa and Jeri and James Potter of Clear Lake, Iowa; four grandchildren: Chad Maurer, Erin (Maurer) Curry and her husband, Douglas, Jason Potter and his wife, Kristy, and Andrea Potter; one sister, Konnie Bojens and her husband, Roger; sister-in-law, Dorothy Hirt; eight great-grandchildren; two great-great-grandchildren; a number of nieces, nephews and other friends and relatives.
As per his wishes, Cloy has been cremated and held until that day when his sweetheart, Betty, can join him in their Final Journey together.