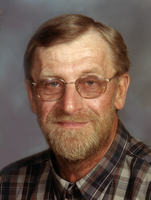 Rodney Lyle "Rod" Douma
Rodney Lyle Douma, son of Oscar & Cornelia (Veen) Douma, was born in Sheldon, Iowa on March 21, 1948. His family lived on a farm south of Sheldon before moving to a farm northwest of Sanborn, Iowa. He graduated from Sanborn High School in 1966 and attended one year of college at Northwest Iowa Technical College in Sheldon, Iowa.
On August 16, 1969, he married Linda Chesley and they lived on a farm by Peterson, Iowa, before moving to the family farm northwest of Sanborn.
On April 13, 1977, their daughter, Angela, was born. She had him wrapped around her finger since day one.
He enjoyed going to his grandsons' school activities. He was their biggest fan, whether it was band concerts, football games, basketball games, baseball games, or track meets. He rarely missed an event, always cheering in the stands for the HMS Hawks. Every summer the family vacationed at Lake Miltona in Minnesota to relax and fish. In the winter, many trips were made to go ice fishing with his family and his fishing buddies. But don't ask him where the fish were biting! He might tell you, but it could be a different lake. He loved farming and having his son-in-law farm with him. Gardening is something he enjoyed doing and sharing the produce with family and friends. Rod passed away on March 9, 2022, at the age of 73.
Left to cherish his memory are his wife, Linda Douma of Sanborn; his daughter and son-in-law, Angie and Brad Kamradt of Sanborn; two grandsons: Payton Kamradt of Iowa City, Iowa and Travis Kamradt of Sanborn; his brother, Robert (Marcia) Douma of Sanborn; two sisters-in-law: Delores Douma of Sanborn and Ronda Steffens of Spencer, Iowa; and several nieces and nephews; other relatives and friends.
He was preceded in death by his parents; and his brother, Bradley; and many of his fishing buddies.