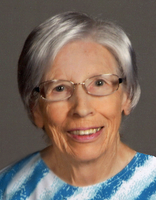 Joyce Marian Norton
Joyce M. Norton, the daughter of Ted C. and Lila M. (Fink) Bisaillon, was born November 23, 1935 on a farm near Dickens, Iowa. She spent her early childhood there and began her education at the local country school. Around 1947, the family moved to Lake Park, Iowa, and then to Sanborn, Iowa, where Joyce graduated from Sanborn High School in 1953.
Following graduation, Joyce was employed for the next seven years at the Agricultural Stabilization and Conservation Service (ASCS) office in Primghar, Iowa, now known as the Farm Service Center.
On January 23, 1955, Joyce was united in marriage to David M. Norton. They began farming together north of Sanborn, where they would spend most of their married life, raising three daughters: Kathryn, Mary, and Nyla. Not only did Joyce keep their household in order, but she also helped David with row crops and their cattle and hog operation. Fall harvest was her favorite time of the year and Joyce was often found in the tractor pulling two wagons behind! She enjoyed hauling grain to the bins or to town and retired after the 2016 harvest season with a perfect driving record. The family farm played a significant role in Joyce's life.
While her daughters were participating in the local 4-H Club, Joyce volunteered as a leader with that group for several years. She was a past member of the Mi'Ono Club in Sanborn and had belonged to St. Andrew's United Methodist Church since 1955.
In 1990, David and Joyce retired from farming and moved into the town of Sanborn. They both loved to travel and see new places – especially during the coldest months of the year, spending twelve winters in the warm sunshine of Lake Havasu City, Arizona. After David passed away in August of 2002, Joyce remained living in their home in Sanborn. She enjoyed playing cards, reading, a cup of coffee with friends, and most importantly, spending time with her family.
On Saturday, February 26, 2022, Joyce gained her reward in Heaven at the age of 86 years. She now joins those who have gone before her: her parents, Ted and Lila Bisaillon; her husband, David Norton; sons-in-law: Daniel R. Gibbons and Michael C. Wolters; brothers: Joy Bisaillon and Lee Bisaillon; five sisters-in-law; and four brothers-in-law.
Left to cherish her memory are her daughters: Kathryn Wolters, Mary Gibbons, both of Sanborn, Iowa, and Nyla (Gregg) Hellinga of George, Iowa; five grandchildren; four great-grandchildren; sisters: Donna Jansen and Jean (Joe) Carpenter, all of Loveland, Colorado; sister-in-law, Janet Roos of Hartley, Iowa; and many other relatives and friends.