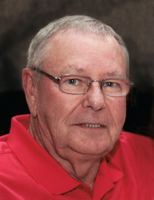 Michael Robert "Mike" Benner
Michael Robert "Mike" Benner was born December 14, 1945 in Hartley, Iowa to Maynard Burdette "Benny" and Leota Marie "Chris" (Christopher) Benner. His middle name was given him to honor his uncle, Robert Benner, who lost his life while in military service during the Korean War.
Mike spent his childhood living in California, Hartley, Iowa and Sanborn, Iowa. While attending school in Sanborn, Mike enjoyed playing football, baseball, and basketball under the guidance of Mr. Don Noll. In later years, his children would also have the privilege of playing for Coach Noll at Sanborn Community School.
Beginning on August 26, 1963, Mike proudly served his country with the United States Army. The following year, he was shipped overseas, spending the next eight months in Vietnam; in June of 1966, he was honorably discharged. Upon completion of his tour of duty, he was awarded the Vietnam Service Medal and the National Defense Medal among other badges and citations.
On May 13, 1965, Mike was united in marriage to Kathi Joan Betsworth. To this union three children were born: Kami Jo-Ann, Michael John, and Sean Joseph. Once he returned home from service, Mike had several jobs, but eventually found his true calling with the Department of Transportation for the state of Iowa. He began in 1974 with the Iowa Highway Commission, being assigned to New Sharon, IA after graduating as valedictorian of his Iowa Law Enforcement Academy class. In 1976, he was promoted to Sergeant with the Iowa Office of Motor Vehicle Enforcement and reassigned to Sanborn, IA. His advancement to captain in 1994 meant relocating to Harlan, IA, followed by his assignment to Cedar Rapids, IA after earning a new position as commander in 2000. In 2002, he was sent to the headquarters in Des Moines, IA, and subsequently promoted to the rank of major in 2005. On July 28, 2006, Mike retired from the department after a 32-year career.
He and Kathi moved back to Sanborn and called it "home" for the next 13 years. Mike was a member of St. John's Lutheran Church in Sanborn, the Sheldon Eagles, American Legion, and the VFW. He was also a long-time member of the Sanborn Golf and Country Club and spent many well-deserved hours out on the green. He enjoyed "being in charge", playing cards, and rooting for the Kansas City Chiefs and the Iowa Hawkeyes with a Diet COKE in hand. He and Kathi made lasting memories traveling to far-off places like Jamaica. Of course, the most treasured times were those spent in the company of their kids and grandchildren whom he dearly loved (even when he gave them a bad time).
In 2019, Mike and Kathi moved to Sheldon, IA, where Mike passed away on February 24, 2022, at the age of 76 years. Preceding him in death were his parents, Benny and Chris Benner; and his brother, Joseph, in 2004.
Survivors include his wife, Kathi of 56 years; three children: Kami (David) Van Egdom of Sanborn; Michael John (Aimee) Benner of Knoxville, IA; Sean (Teri) Benner of Schleswig, IA; seven grandchildren: Bradley and Brady Van Egdom; Nathan, Amber, and Brock Benner; Austin and Whitney Houser; one great-granddaughter: Cora Houser; other relatives and friends.