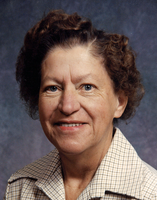 Jennie Stallman
Jennie Stallman, one of seven children born to Andrew and Margaret (Beyer) TenBraak, came into the world on January 26, 1934, in Doon, Iowa. She spent her youth in the Doon area, doing what most farm kids do. If she had a chance to break away, Jennie would grab a fishing pole and head for the water – she loved to fish - something she enjoyed doing even as an adult. She received her education at the local country school, starting kindergarten at the young age of four years, graduating from the 8th grade.
On November 22, 1961, Jennie was united in marriage to Robert John Stallman at Luverne, Minnesota. The new couple began farming together north of Hartley, Iowa and would call this place "home" for the next 27 years; their only son, Pete, was born while living here. Jennie made sure her family was well cared for and their house was a warm, inviting place to be. Wonderful aromas floated though the kitchen when she pulled something out of the oven; Jennie loved to cook and was very good at it! Besides the housework, she took care of flock of laying hens, and managed a big garden every year so she could preserve the produce to enjoy in the winter months. Sometimes work can double as pleasure – that's why Jennie could spend hours weeding and tending her beautiful flower beds.
In 1988, Robert and Jennie moved to the town of Hartley. Robert would drive out to work at the farm every day and to visit their granddaughter, Emily. Following his passing in 2012, Jennie remained in their home until 2016, when she relocated to Community Memorial Assisted Living also in Hartley. She enjoyed taking life a little easier and making new friends - of course, there were the Pinochle games...
On Monday, January 31, 2022, Jennie joined loved ones who had gone on before; her husband, Robert; her parents, Andrew and Margaret TenBraak; her sister, Christina Ericksen; and three brothers: Henry, Chris, and Rich TenBraak.
Keeping her memory close in heart are her son, Pete and his wife, Charlene Stallman and their daughter, Emily Stallman all of rural Everly, Iowa; one sister, Martha Anderson of Doon, Iowa; and one brother, Andy TenBraak of Longmont, Colorado; other relatives and friends.