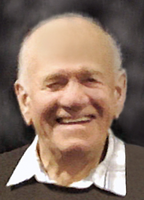 Wilmer Edwin Tiedemann
Wilmer Edwin Tiedemann, fourth son of Alfred B. and Katharina (Breuer) Tiedemann, was born April 3, 1938, in rural Hull, IA. He was baptized and confirmed at St. Paul's Lutheran Church also in Hull. Wilmer attended county school until 8th grade, when he completed his education to help out on the family farm.
Wilmer always enjoyed farming; being able to be outside every day in fresh air and sunshine meant everything to him. It gave him great satisfaction to see an abundant harvest and healthy, growing livestock as a result of hard work, determination, and the good Lord at his side. An agricultural life comes with its own set of challenges, but for Wilmer, there was a certain kind of gratification in dealing with each one through all the changing seasons.
Farm life wasn't always about work – when there was some free time, Wilmer would unwind by attending the local dance hall – where he met Donna Jeanne Philliph. On June 7, 1959, they were united in marriage in May City, IA. By this union, they were blessed with five children.
Wilmer and Donna began farming together near Milford, IA and then moved to Hull for several years. Eventually, they moved back to Donna's family farm near May City. Along with row crops, they managed a dairy herd, fed cattle, hogs, chickens, turkeys, ducks, lambs, bottle calves and farrowed hogs. While taking care of life on the farm, Wilmer also had the opportunity to sustain one by selflessly donating a kidney to his brother, Alvin in 1968.
Dancing or listening to polka music, snowmobiling, going to feather parties, FARMALL and International tractors all brought special enjoyment to Wilmer. He especially like to grow, harvest, and eat sweet corn – and lots of it! Yet, nothing was quite as important as spending time with his children, grandchildren, great-grandchildren - and feeding his farm cats…hotdogs.
When the last dairy cow left the yard, Wilmer and Donna enjoyed annual trips to California to visit Donna's sister, Lorraine. They also drove to Branson, MO several times to visit their friends. Donna passed away on March 28, 2016, after 57 years of marriage.
Wilmer married Deborah K. Olson on August 24, 2017, in Sioux Falls, SD.
On January 28, 2022, Wilmer died quietly in his home in rural Sibley, IA. He is preceded in death by his wife, Donna; his parents; and three brothers.
Left to cherish his memory are his five children: Kathi (Gary) Noble of May City, IA, Bruce (Tiffany) Tiedemann of Earlham, IA, Brian (Vicky) Tiedemann of Charles City, IA, Brent Tiedeman of Estherville, IA and Karla (Keith) Schnurr of May City, IA; 13 grandchildren; 12 great-grandchildren; his wife, Deborah; brother, Arnold Tiedemann; sister, Luella (Dennis) Heilman; sisters-in-law: Mary Ellen (Loren) Reyelts, Betty Tiedemann, and Lorraine Stamer; and many nieces and nephews.
Memorials given in Wilmer's name
may be directed to:
Shriners Health Care for Children
215 Radio Drive
Woodburn, MN 55125