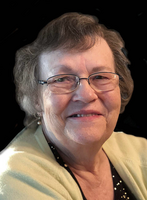 Virginia Louise "Ginny" Harson
Virginia Louise "Ginny" Harson, daughter of Marion George and Myrtle Louise Augusta (Erickson) Quist, was born July 31, 1942 at Wayne, Nebraska. She spent her youth around Oakland and Dixon, Nebraska and received her education there, graduating from high school in Laurel, Nebraska in 1960.
She furthered her education at the Methodist Hospital School of Nursing in Sioux City, Iowa, earning her Registered Nursing degree.
On August 16, 1965, Ginny was united in marriage to Donald Dean Harson at Wayne, Nebraska. Three children would make their family complete: Gina, Gregory, and Robert. Following their marriage, the couple moved to Madrid, Iowa where Ginny was an office nurse for Dr. Leonard. In 1972, the family relocated to Hartley, Iowa and Ginny once again used her medical knowledge as a nurse/Director of Nurses at the local care facilities. She ended her nursing career working for the ophthalmologist, Dr. Gordy, in Spencer, Iowa. To balance the rigors and demands of medical care, Ginny found selling Tupperware to be a pleasant change of pace, as well as working a few hours at the Hartley Library. She was also a member of the United Methodist Church and Grace Fellowship in Hartley.
In her free time, embroidery proved to be a relaxing pastime in the quiet hours of the day (she might have to move a cat off her lap first). Of course, seeing the grandkids was always a welcome surprise – and Ginny made sure there would be something good to eat in the kitchen. She loved to bake, and they loved to make it disappear!
On Tuesday, January 18, 2022, Ginny passed from this life at the age of 79 years. She is once again reunited with her parents who had preceded her.
Grateful for having shared her life are her husband, Don of Hartley, Iowa; her children and grandchildren: Gina (Rodney) Wiekamp, Cade (Alexa) and Macin Harvey also of Hartley, Iowa; Gregory (Lissa) Harson, Dayton and Melanie of Little Rock, Iowa; and Robert (Mindy) Harson, Patrick and David Willaert, Norah and Ellen Harson of Rock Island, Illinois; two brothers: Robert (Maxine) Quist of Anchorage, Alaska, and Gene (Naoma) Quist of Dixon, Nebraska; other relatives and many friends.
Family will NOT be present for the visitation
on Thursday, January 20, 2022.
Funeral Service and Interment on
Friday, January 21, 2022 are Private Family Services.