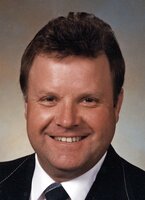 Perry LeRoy Bowen
Perry LeRoy Bowen was born March 28, 1940 in Sanborn, Iowa to Perry W. and Gladys (Ebel) Bowen. He attended school in Sanborn, then enlisted in the United States Navy in 1959 and served his country for four years. He was stationed in Arizona, California, and the Philippine Islands, as well as carrier aircraft squadrons.
In 1962, Perry married Margaret Severson in Mesa, Arizona; to this union two amazing sons were born: Monty and Jamie.
After his honorable military discharge, Perry lived in Mesa for two years before returning home to Iowa. He was employed by the Cherokee Post Office at Cherokee, Iowa and the highway department for the next six years. When he was 30 years old, Perry had the opportunity to return to an agricultural life at Westbrook, Minnesota. He was engaged in farming here for the next 35 years. While at Westbrook, he served on the Westbrook Township Board, the VFW board and was a member of the American Legion.
In 2000, Perry married Cheryl LaRoche from Sioux Falls, South Dakota; they made their home here following his retirement from farming.
On Monday, January 17, 2022, Perry passed peacefully from this life with his family by his side after a courageous battle with cancer. He will always be remembered for his wildly entertaining stories, his unfailing work ethic, his love for his grandchildren, and his willingness to help a friend or neighbor in need.
His memory will be cherished and kept alive by his wife, Cheryl; son, Jamie (Lisa) Bowen of Humboldt SD; stepchildren: Kristine (Todd) Flannery, and Nicholas (Kellee) Blumer; 15 grandchildren; 6 great-grandchildren; siblings: Charlie (Carol) Bowen, Kay (Dan) Ginger, JoAnn Popma; many nieces and nephews; and a host of close friends.
Perry is preceded in death by his parents; siblings: Margret Ann, Pearl, Jane, and Carol; and his son, Monty.
If you would like to honor Perry, a donation to
St. Jude Children's Hospital would have a lasting effect.
https://www.stjude.org/donate/donate-to-st-jude.html