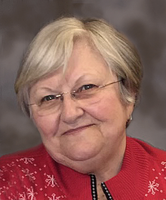 Norene Elizabeth Petrich
Norene Elizabeth (Horst) Petrich, age 77, ended her slow fade from this life on January 12, 2022 in Broomfield, CO, the 55th anniversary of her marriage to Scott Lane Petrich. Norene was born May 1, 1944 to Geneva Catherine (Burns) Horst and Charles August Horst in Sanborn, IA. She was welcomed into the family by her siblings: Catherine (Horst) Stallman, Mary (Horst) Jungers, Margaret (Horst) Pry and James Horst. Norene graduated from Sanborn Public School in 1962. During high school, she worked at the Buttercup Drive-In and then in 1963, she began working at the Sanborn Savings Bank until her marriage to Scott Petrich on January 12, 1967. Norene and Scott moved to Long Beach, CA until Scott brought her back to Sanborn when he left in April 1967 for Vietnam. Upon his return, the couple again moved to Long Beach, CA where they remained until Scott's discharge from the Navy, September 9, 1968. They moved back to Sanborn to live in the home built by Scott's grandfather, Fred Petrich, for his son, Willis Petrich and his wife, Joyce Petrich, Scott's parents. There, the young couple welcomed their son, Jeffery Scott on November 15, 1968.
Norene and Scott lived in Sanborn until September 1969 when they moved to Ames, IA for Scott to complete his degree at Iowa State University. In 1972, the couple and their young son moved to Storm Lake, IA where Scott was employed at Citizen's First National Bank. May 1, 1974, Scott, Norene and Jeff moved back to Sanborn where Scott worked with his father selling farm equipment. The family of three welcomed their daughter, Annie Elizabeth Petrich on November 20, 1977. In 1985, the family of four (and their "same old dog") moved back to Storm Lake where Scott resumed his career at Citizen's First National Bank. Norene was the perfect wife and mother to her family, maintaining the "cleanest house in town" and welcoming her children's friends into their loving home. These now-grown friends share many memories of the love and good counsel provided by Norene throughout their childhood. The family followed their son, Jeff, as he migrated through Europe and Japan while he studied and traveled, also visiting every state in the union. Scott and Norene enjoyed cruises and travel with their extended family and many friends over the years.
In 2016, Scott and Norene moved to Commerce City, CO to be near their daughter, Annie, her husband Ryan, and their children: Ella Elizabeth, Olivia Elizabeth and Miles Ryan Cornelius. There, the couple enjoyed being part of their grandchildren's lives, particularly as the three rose to become excellent soccer players, as well as gifted academicians.In January of 2020, Norene moved to Broomfield where she resided at two different care facilities until her death.
Norene is survived by her husband of 55 years, Scott Lane Petrich; her son, Jeffery Scott; and her daughter, Annie Elizabeth, as well as Annie's husband, Ryan and three children: Ella Elizabeth, Olivia Elizabeth and Miles Ryan Cornelius; and many family members and long-time friends.
She was preceded in death by her parents, Geneva and Charles; and her siblings: Catherine Stallman, and James Horst. She will be interred near her father and mother at St. Cecilia's Catholic Cemetery, Sanborn, IA.
Norene will be remembered for her deep faith and devotion
to everyone she welcomed into her home and into her heart.