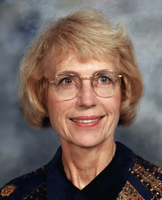 Marilyn Margaret Damman
Marilyn Margaret Damman was born September 12, 1936 on her parents' farm 1 mile east and 1 ½ miles south of Melvin, IA. Three brothers were already there waiting to welcome her: Virgil, Marlo, and Bruce. Being the youngest child and only daughter of Andy and Margaret (Peters) Knock, her arrival would make the family complete. Marilyn grew up much like other farm kids at the time, helping her mother with house chores and playing outside with her brothers.
Education certainly meant more to Marilyn than just "books" – during her high school years at Melvin Community School, she was involved in music and sports as well. A highlight of her junior year was being part of the team that earned a trip to the Iowa State Girl's Basketball Tournament in Des Moines. She was also in concert and marching band, and sang in chorus; in one way or another, music would remain an enjoyment for Marilyn her entire life.
Following graduation from high school in 1955, she began working at the Melvin Savings Bank, retiring in June of 2021. She held various positions, including Vice President and served as Secretary of the Board. Her entire career was focused on helping people from the community and remaining a positive force where she was needed.
On December 29, 1963, Marilyn became the bride of Robert "Bob" Damman at the American Lutheran Church in Melvin. Their life together was a perfect blend of town and country – Marilyn at the bank in town, and Bob managing his ag operation in the country. They treasured time spent with family, relaxing at Okoboji, or just hanging around home. Marilyn found Hawaii to be a favorite vacation spot, taking in the sun, sand and surf when Iowa was all snow, sleet and sub-zero temps.
As a lifelong member of American Lutheran, Marilyn had participated in various functions of the church over the years – she belonged to the Rachel Circle, was chairman of the ALCW, sang in choir and special groups for many years, and directed the choir when the need arose.
She also gave back to the community, whether it was with the American Legion Auxiliary, Osceola County American Cancer Society or serving on the Heather Ridge Condo Board. Marilyn could always be counted on to willingly help however she could, in whatever capacity she was able.
On January 5, 2022, Marilyn passed from this life to be reunited with loved ones who had gone before: her parents, Andy and Margaret Knock, brothers: Virgil Knock, and Bruce Knock; sisters-in-law: Wilma Knock, Eileen Floyd, Virginia Knock, and Bonnie Damman; and two nephews.
Keeping her memory close at heart are her husband of 58 years, Bob Damman of Melvin, IA; Brother, Marlo Knock of Melvin, IA; sister-in-law, Shirley Knock of Sioux Falls, SD; brother-in-law, Glenn Damman of Sanborn, IA; many nieces and nephews; other relatives and many dear friends who made her life complete.