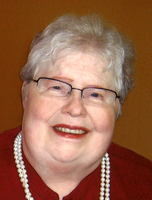 Ruth Elaine Ballou
Ruth Elaine Ballou, fourth child of Herman and Jennie (Reekers) Bruggom, was born May 7, 1938 on a farm near Sheldon, IA. She spent her youth around Archer, IA, attending the country school at nearby Philby Corner through the 8th grade. She completed her education by graduating from Archer High School, followed by one year at Northwestern College in Orange City, IA.
On March 22, 1958, Ruth was united in marriage to Gary Loren Ballou at Worthington, MN. Three children made their family complete: Dan, Robby, and Michele. Ruth and Gary lived on the Ballou family farm for a time, and later moved into the town of Archer. The family relocated to Sanborn, IA in 1965 where they spent the majority of their life with the exception of two years when they lived in Primghar, IA while operating the local drive-in. Ruth was a member of the First Reformed Church in Sanborn.
Being a stay-at-home-mom kept Ruth's days full and busy, and she loved every minute of it. She made sure everyone was taken care of and their home was a warm, safe place to be.
In October of 2002, Ruth became a resident of Prairie View Nursing Home in Sanborn. She lived there until her passing on December 16, 2021. Preceding her in death were her husband, Gary in 2002, son, Daniel in 2013; her parents; two sisters, one in infancy, and Jane Bjork; and a brother, Bill Bruggom.
Ruth is survived by her children: Rob (Laura) of Boise, ID, and Michele Ballou of Sanborn, IA, four grandchildren: Hannah Ballou-Rankin, Rebecca Ballou, and Sarah Ballou all of Boise, ID, Tamara Johannsen of Sheldon, IA; one great-granddaughter, Maggie Estel Ballou of Boise, ID; brother: Larry (Carol) Bruggom of Sheridan, MT; sister, Phyllis (Ray) Elgersma of Sanborn, IA; other relatives and friends.