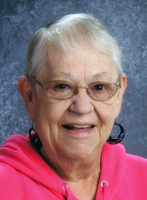 Jeanette Joyce Endorf
Jeanette Joyce (Hopkins) Endorf, daughter of Murvin Hopkins and Marie (Taylor) Hopkins, was born in Primghar, Iowa. She moved to Sanborn, Iowa in 1949 where she finished her schooling and graduated from Sanborn High School in 1956. On June 17, 1956, she was united in marriage to Arley Endorf; he preceded her in death in 1990. Three children were born to this union: Sherryl Kae, Alan Ray and Raymond Aloyisious.
Jeanette was an active member of the First Presbyterian Church in Sanborn. Over the years, she taught Bible School and Sunday School, served as a trustee and deacon, and was a member of Miriam Circle. She recently retired from the Sanborn MIONA Club, having belonged to that group since 1956, and was one of their Charter members. She was also a longtime member of the American Legion Auxiliary in Sanborn. Jeanette bowled for many years and was an original member of the Hall of Fame for the Sanborn Women's Bowling Association. Those who went camping with Jeanette can attest to the fact that she made a great "camp director". Jeanette operated an in-home daycare for many years. She was also a member of the Foster Grandparent Program and volunteered at the Sanborn Middle School.
On Monday, November 15, 2021, Jeanette passed from this life at the age of 83 years.
Left to cherish her memory are her daughter, Sherryl (Wade) Tressler of Sanborn, Iowa; her son, Alan (Vicki) Endorf of Waterloo, Iowa; three grandchildren: Rae Lyn (Roger) Paulson of Sheldon, Iowa, Andy Endorf of Waterloo, Iowa, and Janelle Endorf of Myrtle Beach, South Carolina; four great-grandchildren: Jade Paulson, Ethan Paulson, Reese Peyten and Patrick Robinson; siblings: Keith Hopkins of Concan, Texas, Marian Anderson of Round Rock, Texas, Kenneth (Dayle) Hopkins of Tifton, Georgia, Nancy Huff of Sheldon, Iowa, Jean (Phil) Snyder of Sanborn, Iowa, and Jane (Ken) Conaway of Council Bluffs, Iowa; and many nieces and nephews.
Jeanette was preceded in death by her parents, Murvin and Marie Hopkins; her husband, Arley Endorf; son, Raymond Endorf; her in-laws, Ray and Liz Endorf; sisters: Gretchen Louderback and Marveen Lange; sisters-in-law: Madeline Hopkins and Beverly (Endorf) Robinson; brothers-in-law: Verlyn Endorf, Tom Endorf, Loren Robinson, Warren Louderback, Bob Huff, and Louis Lange.