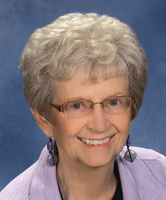 Janice Elaine Vander Schaaf
Janice Elaine Vander Schaaf (Vander Linden), daughter of William and Elizabeth (Van Ravenswaay) Vander Linden, was born December 29, 1939 on their farm near Ireton, Iowa. In 1944, they relocated to Inwood, Iowa. Janice attended country school until 5th grade when the family moved to a farm near Sheldon, Iowa in 1951. Here she completed her education, graduating from Sheldon High School.
Over the years, she had been employed at the Sheldon Medical Clinic in Sheldon, Iowa, Prairie View Nursing Home and Paradox Florist both located in Sanborn, Iowa, and the major portion of her career proudly spent at Prins Insurance also in Sanborn, until she retired in 2005.
Janice loved being a mother, grandmother and great-grandmother. She looked forward getting together with her siblings and extended family for gatherings. Bridge and Pinochle were regular events she enjoyed with her friends. She was a member of the First Reformed Church in Sanborn where she served in various capacities, and also volunteered at the Sanborn Public Library and the Red Cross Bloodmobile. Janice had a strong work ethic and loved being helpful to assist family and friends when needed.
Janice was married to Clifford Vander Schaaf for 15 years. During that time, they lived on a farm near Sanborn along with their three children: Brent, Kurt, and Sonya.
On Thursday, October 21, 2021, Janice passed from this life at the age of 81 years. She was preceded in death by her parents, William and Elizabeth Vander Linden; four brothers: William, Robert, Jim and John Vander Linden; two sisters-in-law: Norma Vander Linden and Rose Vander Linden; and one brother-in-law, Robert Merley.
Keeping her memory close in heart are her children: Brent Vander Schaaf, Kurt Vander Schaaf and his fiancé, Tami Mulder, and Sonya (John) Glenn; grandchildren: Amanda (Ted) Stessman, Ellie Glenn; one great-grandchild, Teddy Stessman; her sister, Betty (John) Kreykes and twin sister, Julia Merley; brothers: Paul (Phyllis) Vander Linden, Dennis Vander Linden; sisters-in-law: Wilma Vander Linden and Loretta Vander Linden; many nieces, nephews and friends.