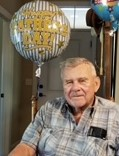 Darrell Dean Strampe
Darrell Dean Strampe, 81, of Lenexa, KS,
passed away October 11, 2021
at Olathe Medical Center, Olathe, KS
Visitation will be held 11:00 am Tues., Oct. 19, 2021 followed by the service at 12:00 noon all at St. Mark's Lutheran Church, 21155 College Blvd., Olathe, KS. A lunch at the church follows the service.
A visitation will be held at 10:00 am on Thur., Oct. 21, 2021 at Hartley Funeral Home, 830 Second St. NE, Hartley, IA followed by a Graveside Service at 11:30 in Pleasant View Cemetery, Hartley, IA. A luncheon will be held after the graveside service at the Arthur W. Kirchoff Post #288 Legion Club in Hartley
Memorial Contributions may be made to the Down Syndrome Association of Minnesota in care of dsamn.org. Arrangements: Bruce Funeral Home, Gardner, KS (913) 856-7111. Condolences may be left at www.brucefuneralhome.com
Darrell was born June 18, 1940 in Hartley, IA to Marvin A. and Gladys Opal (Milz) Strampe. He graduated from high school in 1958. Darrell married Barbara Lou Tschopp on Nov. 5, 1961 in Hartley, IA. He earned his BS from Mankato State in Minnesota. They lived in De Soto for 32 years; moving to Lenexa 6 years ago. Darrell worked as a salesman for PraxAir Industrial Gas Co.; retiring in 2000.
He was a member of St. Mark's Lutheran Church, Olathe, KS. Growing up he was involved in 4H, FFA and high school athletics. As a father, he helped with 4H, County Fairs, horse shows and was a Little League booster. Darrell enjoyed fishing, hunting, camping, boating and horseback riding. He was a devoted father and husband and will be dearly missed.
He was preceded in death by his parents and grandson Michael Glenn Strampe. Darrell is survived by his wife Barbara of the home; children; Steve and Tammy Strampe, Enterprise, OR, Matt and Susan Strampe, Austin, MN and Hope and Joe Hattesohl, Aliso Viejo, CA and eight grandchildren.