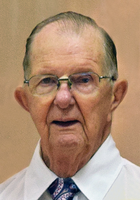 Marlow Wayne "Mutt" Dorman
Marlow Wayne "Mutt" Dorman, one of four children born to Marvin and Hulda (Storm) Dorman, came into this world in Sanborn, Iowa, on February 4, 1932. He spent his youth in the Sanborn vicinity and received his education there, graduating from Sanborn High School with the class of 1950.
On October 6, 1951, Mutt was united in marriage to Bernice Alice Possin in Ottumwa, Iowa. The new couple made their home in Sanborn, completing their family with the addition of three children: Conly, Candice, and Shawn. Mutt was employed with the O'Brien County Cooperative Creamery in Sanborn and continued working there when it became known as AMPI (Associated Milk Producers, Inc.). He finally retired after 42 years of dedicated service.
Between work and family obligations, there usually wasn't much time left in a day to just unwind, but Mutt found out that fresh air, sunshine and exercise could put anything in perspective…and what better place to do that than on the golf course! If the weather wasn't cooperating, he also enjoyed shooting pool with the guys or playing a couple card games at the O.K. Rec in town. Since Iowa snow made golfing impossible, he and Bernice retreated to the warm Arizona climate for the winter months; something they looked forward to for over 20 years.
On Thursday, September 9, 2021, Mutt passed from this life at the age of 89 years. Keeping his memory close in heart are his children: Candice (Randy) Lyman of Sanborn, Iowa, and Shawn McReynolds of Webb City, Missouri; five grandchildren: Chad (Rhonda) Lyman, Alison (Jeff) Spath, Kimberle (Tim "Swede") Eliker, Amanda Dorman and Keith Allen McReynolds; six great-grandchildren: Morgan and Jayden Lyman, Conley Bonnicksen, Charlie and Emma Spath, and Ryker Eliker; many nieces, nephews; other relatives and friends.
Mutt was preceded in death by his parents, Marvin and Hulda Dorman; his beloved wife, Bernice Dorman in 2014; his son, Conly Dorman in 1998; brother and wife, Kenny and Mariel Dorman; sisters and husbands: Fern and Daryle McGranahan, and Donna and LeRoy Alons.