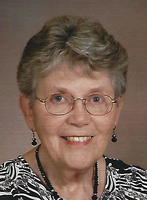 Barbara Jeanne "Barb" Hennings
Barbara Jeanne Hobart was born July 17, 1934, the second daughter of Jim and Elsie (Levine) Hobart. She grew up on a farm near Emmetsburg, Iowa with her father, Jim, and stepmother, Joyce Hobart, two sisters and a brother. She attended school in a one-room schoolhouse and graduated from Emmetsburg Public High School in 1952. Barbara earned a two-year teaching degree from Iowa State Teacher's College in 1954, and that September, began her teaching career at Hartley, Iowa. During that time, she met Elmer Peters whom she married in June of 1956. The couple moved to a farm north of May City, Iowa where their four children were born: Scot, Pamela, Amy and Joan. In 1975, Barbara and the girls moved to Hartley while Scot remained on the farm; in 1976, he was killed in a tragic car accident. Barbara began working at the Hartley Elementary School as a teacher's aide while attending Buena Vista College at night and during the summer. In 1982 she received her Bachelor of Arts degree from Buena Vista and began teaching again.
In 1986 Barbara married Merlyn Hennings and moved to his farm near Hartley; she also bought a cabin on Lake Okoboji. In 1996, Barbara retired from teaching and in 1997 the couple moved to Lake Okoboji to become permanent residents. Merlyn and Barb's families began to grow with marriages of children and the arrival of grandchildren.
During her 20-year career at Hartley Elementary School, Barb taught language arts and led the Talented and Gifted Program which she established with the support of education grants. She was committed to her students' education and relished their academic and career successes. In retirement, Barb was an active member of St. Paul's Lutheran Church in Hartley, serving on many committees and participating in various bible study groups. She was also a positive force in the local Y'Adnom organization in Hartley, helping to serve and advance social issues in the community. After relocating to Okoboji, Barb was involved in that community as well, volunteering at the Milford library and Camp Okoboji. She enjoyed traveling, gardening, and reading, but happily took time for the many visits from family and friends.
On Thursday, August 26, 2021, Barbara passed from this life at the age of 87 years. She was preceded in death by her mother, Elsie; sister, Beverly; father, Jim and stepmother, Joyce; beloved son, Scot; and the children's father, Elmer Peters.
Keeping her memory close at heart are her husband, Merlyn Hennings; daughters: Pamela (Jay) Morreale, Amy (Tony) Volk, and Joan Peters (Erik Larsen); grandchildren: Nicholas Morreale, Isabella Morreale, Claire Volk, Daniel Volk, and Elise Volk. Also surviving are Merlyn's sons: Larry (Becky) Hennings, Loren (friend, Barb) Hennings, and Lynn (Jodie) Hennings; his grandchildren: Carrie Paplow, Jameson (Baily) Hennings, Michael (Taylor) Roede, Kyle (Heather) Hennings, Stacie Hennings, Amanda (Matt) Altman; Barbara's sisters: Marie Carlson, and Kathy Hobart; her brother, Jim (Sharon) Hobart; loving great-grandchildren; nieces, nephews, cousins; and cherished friends.