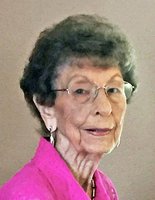 Harriet Carole Mouw
Memorial Tribute
Harriet Carole Mouw, the daughter of Richard and Caroline (Scholten) Scholten was born at Corsica, SD, on December 9, 1927. Her family moved to Hartley, IA, in 1929 and then to a farm near Melvin, IA. Harriet attended Goewey #8 country school through eighth grade and graduated from Melvin High School in 1945. She furthered her education at Northwestern Junior College in Orange City, IA, earning her 2-year degree in May of 1947.
On August 29, 1947, Harriet was united in marriage to John G. Mouw at the First Reformed Church in Orange City. The couple lived in Orange City for a year and a half where John worked at the Co-op and Harriet worked at the Northwestern college library. Eventually, they moved to a farm near Ocheyedan, IA. In 1953, they relocated to a farm west of Melvin, where they raised their four children: Denny, Darwin, DeeAnn, and Debra.
Harriet was a member of the First Reformed Church of Melvin. She enjoyed serving the church playing both the piano and organ for over 60 years, and was thrilled to still be playing at the age of 93. She was a member of the Goewey Home & Study Club, the Melvin Legion Auxillary, and participated in the church women's group sewing children's quilts for the Linus Project. She was an avid Melvin basketball and softball fan as well as a crossword, word search, and puzzle enthusiast! She enjoyed playing cards and dominoes, or socializing with friends and family. She loved watching birds and wildlife on the farm from the view of her favorite chair. She treasured the time spent with her children and grandchildren, and was proud of each one of them. John and Harriet celebrated 66 years of marriage before his death September 2, 2013.
On Tuesday, July 27, 2021, Harriet passed from this life at the age of 93 years. Keeping her memory close in heart are her children: Denny and Peggy Mouw of Denver, CO, Darwin Mouw of Northglenn, CO, and Debra Cianciulli of West Palm Beach, FL; son-in-law, Roger Kruse of Melvin, IA; grandchildren: Jason Mouw, Sara Waterman, Melissa Kruse and her husband, Hakan Delibas, Ashley Mouw, Kelsey Cianciulli, and Angela Kruse; great-grandchildren: Emily and Brady Waterman; her brother and his wife, Ken and Joan Scholten of Mitchell, SD; sisters-in-law, Rose Scholten of Melvin, IA and Marcia Mouw of Greene, IA; brother-in-law and his wife, Don and Lorae Nieuwendorp, of Sioux City, IA; nieces, nephews; and many other relatives and friends.
Harriet was preceded in death by her parents; her beloved husband, John; her cherished daughter, DeeAnn Kruse; brother, Robert Scholten; brother-in-law, Lowell Mouw; and sister-in-law, Darlene Nieuwendorp.