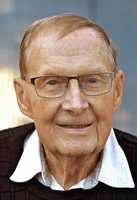 Harold Marion Hoftyzer, Sr.
Harold Marion Hoftyzer, Sr., son of John and Hendrika (Kleinwolterink) Hoftyzer, was born at Sibley, Iowa on January 8, 1928. He was raised on a farm near Ocheyedan, Iowa and received his education at a local country school.
Beginning in October 1946, Harold served his country in the United States Army. Seven months of his tour was spent with the occupational forces in Japan immediately after WWII. Following his honorable discharge, he enrolled in the Elgin Watch College at Elgin Illinois. While attending school there, he met the "love of his life", Florence Dorothy Schultz; they were married March 31, 1951 at Wheaton, Illinois.
They began their life together at Vinton, Iowa before relocating to Hartley, Iowa in the fall of 1951… Harold's Jewelry soon became a reality. Harold and Florence owned and operated the business in downtown Hartley for 40 years, serving not only Hartley, but neighboring communities as well.
In 1966, Harold began his "second job" as a farmer when he and Florence moved to their farm west of Hartley. Being a farm kid at heart, Harold truly enjoyed BOTH of his careers. In his retirement, he enjoyed golfing, fishing, bowling and traveling, but all that could wait if it meant spending time with his family and grandchildren. He was an active member in the three churches he and Florence attended - Hartley Christian Reformed Church, Central Avenue Baptist Church of Hartley, and most recently, the Sanborn Christian Reformed Church at Sanborn, Iowa.
Harold was called to his heavenly home at the age of 93 years on Thursday, July 8, 2021 while in hospice care at the hospital in Orange City, Iowa.
He is survived by his children and their families: Harold Jr. (Jill) Hoftyzer of Orange City, Iowa, Roger (Sandy) Hoftyzer of Hartley, Iowa, Sharon (Leroy) Harmsen of Kelly, Iowa and Karen Hoftyzer of Sauk Rapids, Minnesota; seven grandchildren; and 16 great-grandchildren.
Preceding him in death were his parents, John and Hendrika; his wife of 58 years, Florence; five brothers; and three sisters.
Harold loved his Lord and Savior, Jesus Christ, which carried over into his love
and concern for his family, and those around him -
touching every aspect of his life.
As was often said of Harold, "he was a kind and caring man."