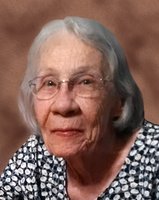 Mary Alice Harris
Mary Alice Harris, daughter of Theodore and Leila (Klatt) Toft, was born on June 24, 1934 in Royal, Iowa where she spent her childhood years. She would fondly reminisce of small town Saturday evenings when the adults shopped and socialized while children were entertained by movies projected on brick buildings. She and her four siblings saw their extended family frequently when they gathered for Sunday meals and celebrations of all sorts.
In 1952, Mary was united in marriage to Wendell Harris. They began their married life in Sutherland, Iowa and soon after moved to Chicago where Mary got a taste of life in the big city. They moved to Minnesota where they had three daughters. The family spent several years in Arizona before coming back to the Midwest. Before settling in Hartley in 1999 to be near family, Mary and Wendell lived in Missouri. Mary relished their years on the secluded acreage where she gardened, gathered wild blackberries, and watched wildlife from the windows. She especially enjoyed the many species of birds that flocked to her feeders. She loved hosting her family and baked their favorite treats.
Mary passed away peacefully at her home on June 28, 2021; she was 87 years of age. She will be remembered for her compassion - she knew how to listen, accept, love, and make you feel special.
Left to cherish Mary's memory are her three daughters and their husbands: Donna and Dan McCarty, Hartley, Iowa, Cynthia Harris and Scott Tome, Bloomington, Minnesota, and Laura and Jim Renken, Melbourne Beach, Florida; nine grandchildren: Scott McCarty (Ana Montelongo), Michael McCarty (Jennifer), Adam McCarty (Nichole), Justin McCarty (Julie), Angela Hasbrouck (Jakob), Maria McCarty, Olivia Renken (Sean Cedotal), Samuel Renken (Lek Sophea), and Randal Renken; fourteen great-grandchildren; brother, Donald Toft (Judy); sister, Judy Benna; brother-in-law, Ell Fredin; and many beloved nieces and nephews.
Mary is preceded in death by her husband, Wendell; her parents, Theodore and Leila Toft; infant brother, Paul; sisters: Gladyce Fredin and Shirley (Clarence) Wede; Wendell's parents, Harold and Mary Harris; brothers-in-law: Dennis Benna and Lionel (Elaine) Harris.
Mary's daughters wish to express heartfelt appreciation to
Sanford Home Health and Hospice
who helped them care for Mary in her final months.