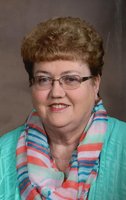 JoAnne Helen Harders
JoAnne Helen Harders, the daughter of Ernest and Beulah (Carroll) Singelstad, was born on October 26, 1947 in Spencer, Iowa. She was raised and received her early education in Lake Center and Terril, graduating from Terril High School. She went on to UNI in Cedar Falls, IA and received her bachelor's degree. Following graduation, she worked as a teacher, and then a social worker in Pender, Nebraska. On February 12, 1977, JoAnne married Ervin Harders in Terril, Iowa. Following their marriage the couple lived on a farm near Hartley, where she fulfilled her dream of being a farmer's wife and raising her family. JoAnne was a longtime faithful member of St. Paul's Lutheran Church, where she served for many years as a Sunday School Teacher, was a longtime member of LWML and Mary Circle, and was always willing to help out where needed.
JoAnne enjoyed going camping with her family and traveling after their retirement. She loved entertaining and having family come to her home. Her greatest moments were spending time with her family, especially her granddaughter, Katelyn.
After battling rheumatoid arthritis and diabetes for many years, she passed away on June 27, at Avera Hospital in Sioux Falls, SD, surrounded by loved ones. She was 73.
She was preceded in death by her parents and her brother-in-law, Craig Freeman.
Left to cherish her memory is her husband, Ervin; son, Daniel (Tiffany) of Holyrood, KS; daughter, Kim Rye (Alan) of Hartley, IA; granddaughter, Katelyn Rye of Hartley, IA; sisters: Joyce Freeman of Stevensville, MI, Jolene Lang (Douglas) of Polk City, IA and Julie Angus (Thomas) of Dallas Center, IA; nieces and nephews; other relatives and friends.