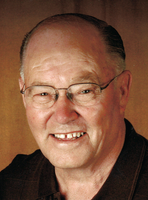 William Cornie "Bill" Vierhout
William Cornie "Bill" Vierhout, son of Arie and Ida (Kleene) Vierhout, was born on August 20, 1935 at Hull, IA. He grew up on the farm along with his two sisters, Evelyn and Irene and attended country school near Boyden, IA, graduating from the 8th Grade.
In August of 1955, Bill began serving his country with the United States Army, spending 18 months of his military duty in Japan. He also completed his education while in service, earning his G.E.D. After his honorable discharge in June of 1957, Bill returned home and was employed at Black's Farm Store in Primghar, IA.
On July 21, 1959, Bill was united in marriage to Charlotte Bosch at the First Reformed Church in Sanborn, IA. The new couple began their life doing what Bill loved best - farming. Eventually they settled on a place northeast of Melvin, IA where they would spend the next 40 years and raise their three children: James, Connie, and Crystal. Bill and Charlotte raised row crops and managed a large dairy herd of registered Holsteins - everyone in the family doing their part. While the kids were still home, they enjoyed participating in Livestock Shows and county fairs together, collecting many ribbons and awards over the years.
As a contributing member of his community, Bill had sat on the boards of the local elevator, REC, AMPI, and Funeral Home, as well as various dairy organizations. He was a member of the First Reformed Church in Melvin, serving as deacon and elder.
Bill and Charlotte retired from farming in 2002 and moved into the town of Sanborn. Now, having more free time, they spent it traveling around the country, seeing new sights and new places; yet nothing ever looked so good as pulling into your own driveway. Bill's greatest delight was being with his family; watching the grandkids grow and holding his great-grandson.
On Friday, May 21, 2021, Bill passed from this life at the age of 85 years. He now joins loved ones who have gone before: his parents, Arie and Ida Vierhout; his mother and father-in-law, John and Jeanette Bosch; a brother, Cornie Vierhout; sister, Irene Maggert; and grandson, Michael Vierhout.
Keeping his memory close at heart are his wife of nearly 62 years, Charlotte of Sanborn; his children: James (Cheryl) Vierhout, Connie (Rod) TeKrony all of Hull, IA, and Crystal Vierhout of Sanborn, IA; six grandchildren: Robert (Jessica) Vierhout of Cumming, IA, Thomas (Brittany) Vierhout of Sioux Falls, SD, Anna Vierhout and Alec Monahan of Des Moines, IA, Ryan TeKrony and Brialle Veldman of Kathleen, GA, David TeKrony of Sioux Center, IA, and Marcus TeKrony and Jackie Trejo of Hull, IA; one great-grandson, James Michael Vierhout; other relatives and friends.