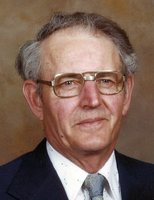 Henry Henning "Hank" Haht
Henry Henning "Hank" Haht was born March 11, 1925 in rural Paullina, Iowa, the son of Ernest and Elizabeth (Thomas) Haht. He attended the local country school, graduating from the 8th Grade. He continued helping out on the family farm until leaving in 1944 to serve his country with the United States Army during WWII.
On June 4, 1947, Hank was united in marriage to Kathryn Lorene Noethe at the Sacred Heart Catholic Church in Sutherland, Iowa. The couple made their home in Sutherland, expanding their family to include seven children: Linda, Wayne, Bruce, Jim, Susan, Diane, and Chris.
Always a carpenter at heart, Hank worked at Lane Moore Lumber Yard, the State Hospital, Autumn Park complex, and helped family with many building projects throughout the years. He also enjoyed woodworking on a smaller scale, using his natural talent and craftmanship to create beautiful shelves, quilt racks and seasonal decorations.
Hank was a member of Sacred Heart Catholic Church in Sutherland and a longtime member of the Sutherland American Legion, Post #152. He was an active volunteer, helping out with duties and functions in both organizations. He valued time spent with friends over a cup of coffee or having his family stop in anytime for a visit – and he never turned down a good game of cards!
On Thursday, April 29, 2021, Hank passed away at the age of 96 years, joining loved ones who had gone before. Preceding him were his wife, Kathryn Haht in August of 2020; son, Bruce Haht; daughter, Diane Sechler; grandson, Adam Haht; sons-in-law: Denny Hinspeter and Edon Tewes; parents, Ernest and Elizabeth Haht; brothers: Delbert and William Haht; and sister, Mildred Darr.
Left to cherish his memory are his children: Linda Tewes of Hartley, Iowa, Wayne (Sandy) Haht of Spirit Lake, Iowa, Jim (Alice) Haht and Susan Hinspeter both of Sutherland, Iowa, and Chris Haht and special friend, Trish of Storm Lake, Iowa; daughter-in-law, Micki Haht and son-in-law, Tyler Sechler both of Calumet, Iowa; 20 grandchildren; 27 great-grandchildren; 5 great-great-grandchildren; a sister, Bernice Zeeb of Custer, South Dakota; other relatives and friends.