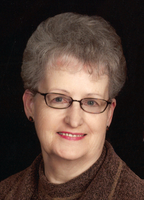 Noreen Gwen Krikke
Noreen Gwen Krikke was born February 23, 1939 at Doon, IA, the daughter of Mynard and Jeanette (Kosters) Van Tol. She lived her early years in the Doon area where she attended the Doon Christian school. In 1944, she moved with her parents and two brothers to Sanborn, IA, spending the remainder of her youth and adulthood as part of this community. She received her grade school education at Sanborn Christian, graduating from Western Christian High School at Hull, IA, in 1956.
On March 27, 1957, Noreen was united in marriage to Burdelle A. "Bud" Krikke at the Christian Reformed Church in Sanborn. The new couple made Sanborn their home; Bud was employed at the Sanborn Co-op and Noreen's days were kept busy being a full-time homemaker and Mom to their three children: Brenda, Rhonda, and Barry. Between the kids' school activities and participating in church functions, there wasn't always a lot of time to spare in a day. If she ever did find a free hour or two, Noreen could happily spend it going to garage sales! Who ever knew hunting "treasures" could be so much fun? She also worked part-time for several years in the Laundry Department at Prairie View Nursing Home in Sanborn.
Noreen was a member of the Christian Reformed Church and enjoyed the time she shared with friends at Coffee Break Bible Study or helping out with church activities. She and Bud made lots of memories and new friends on the many bus tours they took together. While it was fun to see new places and experience new things, nothing could quite take the place of the contentment found in spending precious time with family and grandchildren.
On Thursday, April 15, 2021, Noreen joined those who had gone before her; she was 82 years of age. Left to cherish her memory are her children: Brenda (Mark) Dagel of Ocheyedan, IA, Rhonda (Jerrold) Wynia of Farmington, MN, and Barry (Dawn) Krikke of Jacksonville, FL; 12 grandchildren; 19 great-grandchildren; brother, LeRoy (Susie) Van Tol; sister-in-law, Jayne(Loren) Bittner; brothers-in-law: Howard (Alvina) Krikke and Leroy (Sherry) Krikke; other relatives and friends.
She was preceded in death by her husband, Burdelle "Bud" Krikke; her parents, Mynard and Jeanette Van Tol; brother, Jay Van Tol; parents-in-law, Luke and Sadie Krikke; brother-in-law, John (Arlene) Krikke; sisters-in-law, Stella (Harry) Bosma and Shirley (Al) Rens.