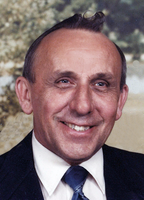 Maynard Norman Holtz
Maynard Norman Holtz of Everly, Iowa was born May 11, 1927, in Moneta, Iowa, to Henry and Norma (Janson) Holtz. He was baptized in the Christian faith at St. Paul's Lutheran Church in Hartley, Iowa and confirmed at Trinity Lutheran in Royal, Iowa. During his youth he lived in the Moneta and Hartley communities, graduating in 1944 from Moneta Consolidated School. He was proud to be a part of the 1943 Moneta baseball team as their right fielder. The team took 2nd place in the State High School tournament, going up against much larger schools.
In March 1946, Maynard joined the United States Army and was stationed in Tokyo, Japan with the Military Police until his return home on Christmas Day, 1947.
He met Leona Mae Schmeling in 1953 at a dance at the Woodcliff Ballroom. They were married on February 21, 1954, at Terril Immanuel Lutheran Church in Terril, Iowa. They welcomed four children to their family. Maynard farmed in the Everly and Milford, Iowa areas until 1980 when he and Leona moved to Des Moines, Iowa. Later he was employed with Ruby Miller Equipment, the local co-op, Electrolux vacuums, True Value Hardware, Consumer Lumber, Coast-to-Coast, and Corn Belt Equipment - he never really retired. He enjoyed crossword puzzles, baseball, dancing old-time concertina style, and most of all, visiting with friends and relatives. He served as a Hope Lutheran Church trustee, helped serve senior meals, served on the Dance Club board, and was a member of the Everly American Legion Post 414 for 30 years.
On Thursday, April 15, 2021, Maynard passed away quietly in his sleep at his home at the age 93 years. Preceding him in death were his parents; a brother, Melvin Henry Holtz; a sister, Berneice Irene Holtz; a nephew, Gayle Holtz; sons-in-law: Vernon Schoorman and Peter Masters; four sisters-in-law; and four brothers-in-law.
He is survived by Leona, his wife of 67 years; his children: Beverly (Ross) Rinehart and David Holtz both of Everly, Iowa, Vivian Masters of Des Moines, Iowa, and Kevin Holtz of Sheldon, Iowa; 12 grandchildren; 23 great-grandchildren; other relatives and many friends.
In lieu of flowers, memorials may be made to Hope Lutheran Church,
American Legion Post 414, or Fire & Rescue, all in Everly.