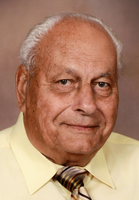 John Frederick Meiske
John Frederick Meiske, Jr., the son of John and Sadie (Zinn) Meiske, Sr., was born June 7, 1932 in Hartley, IA, the place where he would spend his entire life. He was baptized on July 3, 1932 and confirmed in May of 1946 at St. Paul's Lutheran Church in Hartley. John received his education here as well, graduating from Hartley High School in 1951.
On June 6, 1954, he married LaVaughn Lill. Following their marriage, they moved to rural Hartley where they were blessed with four children: Lori, Lee, Ann and David.
John farmed the Meiske family farm east of Hartley while operating Meiske Trucking, hauling cattle. After ending his trucking business, John continued farming and, for a few years, worked for the U.S. Postal Service. He was then employed by the O'Brien County Road Maintenance Department until his retirement. John loved his job with the county, especially running the maintainer. He took great pride in keeping the county gravel roads in good condition. He also enjoyed driving around to check out his farm ground and see how all the crops were doing…a true farmer at heart. John was a lifelong member of St. Paul's Lutheran Church where he served as an usher and on the board of Trustees. Both John and LaVaughn dedicated many hours to help care for their son, Lee, who was injured in an accident. John's kind and giving nature remains as an example for all of us. On Sunday, April 11, 2021, John claimed his reward in Heaven at the age of 88 years.
Left to cherish his memory are his children: Lori Albrecht and husband, Dave, Ann Schauer and husband, Phillip all of Sergeant Bluff, IA; and David Meiske and wife, Kris of Dakota Dunes, SD. He was blessed with, and so proud of his five grandchildren: Emily Hinnah and husband, Wes, Adam Albrecht and special friend, Maria Gochenour, Luke Schauer and wife, Taylor, Hannah Duff and husband, Brian and Sean Meiske. He loved to hear about his four great-grandchildren: Josie Geisler, Hudson Hinnah, Bowman Schauer and Kinley Schauer. Other survivors include his brother, Jay Meiske and wife, Gerry of Eden Prairie, MN; several nieces and their families; and many friends.
He was preceded in death by his parents; his wife, LaVaughn on October 28, 2006; his son, Lee on May 31, 2010; sister-in-law, Donna Meiske; brothers-in-law: Louis, Lloyd and his wife, Dorothy; nephews: Dennis Lill, Dean Lill and Tommy Meiske.