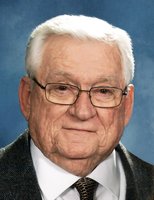 Charles Eugene "Chuck" Comstock
Charles "Chuck" Comstock was born on February 16, 1945 and passed on to heaven on February 22, 2021. He was the son of Prudence "Prudy" and Eugene Swearingen. He would never have the opportunity to meet his biological father as he passed away before Chuck was born. However, in the great fortune that surrounded Chuck's life, his mother married another extraordinary man, John "Jack" Comstock, two years after Chuck's birth and "Comstock" became his last name. Being surrounded by love and interesting stories started early in Chuck's remarkable life.
Chuck was raised by Jack and Prudy in Sanborn, IA in a home across the street from the Sanborn city park. Chuck loved his childhood years in Sanborn and would eventually return to spend his final years there as well. After high school, he attended Mankato State University and then embarked on a lifelong venture that involved building relationships and serving others. During his career he worked for Cap Homes, Triangle Pacific Cabinets, and Iowa Realty. During these years, Chuck and family initially lived in Austin and Rochester, MN, eventually settling in the Des Moines, IA metro area.
Chuck was united in marriage with Irene Odegaard in 1966. To this union, two sons were born: Wade John Comstock and Ryan Charles Comstock. In 1999, he married Jacque Howard who also brought great joy to his life.
In moving back to Sanborn with Jacque, Chuck enjoyed visiting with friends – old and new. He loved his coffee club and looked forward to playing pool during the week as well. He cared about Sanborn's history and its future, and his love for his family overflowed to the townspeople. Chuck also took pride in his church.
Chuck was proud of all his grandkids. He was a fan of each one and supported all their activities he could attend from sporting events to graduations, and he especially enjoyed celebrating birthdays. In addition to plenty of presents, Chuck enjoyed giving two-dollar bills to his grandchildren. For Christmas, he mailed his own custom-made printed out activities direct from the North Pole. No holiday was complete without his puns and grandpa jokes, such as this Thanksgiving classic, "What sound does a turkey's phone make? … Wing, Wing."
Chuck was a staunch supporter of the Iowa Hawkeyes. He delighted in rehashing the games over the phone, or even better, in person. Through the years he had several Iowa Hawkeye flags or windsocks that proudly flew in the front yard – even when seasons were a bit rough. At most of grandkids' games, he would keep his own scorecard on a scrap of paper with a stub pencil that he kept in his shirt pocket and could always be depended on to know the score.
Chuck's other sport of pure delight was fishing. He loved fishing and he loved his boat. The Woman Lake Chain, near Longville, MN, held some of his favorite fishing spots, but fishing in general was dear to his heart. Chuck also loved old fishing lures and the stories of lure companies.
Chuck is survived by his wife, Jacque Comstock; sons: Wade (Heather) Comstock and Ryan (Rebecca) Comstock; sister, Lynne (Lyle) Yackley; stepsons: Chris (Pati) Howard and Ryan (Megan) Howard; grandchildren: Carter, Henry, Samuel, Olivia, Harper, Maxwell, and Nashton Comstock, Ethan Groom, Winter Howard; and nieces: Lisa Lanphere and Lori (Scott) Lanphere-Kruger; other relatives and a host of good friends.
In keeping with Chuck's casual and relaxed manner,
please feel free to be comfortable in your
favorite shirt and jeans...he'd like that.
In lieu of flowers, memorials given in Chuck's memory
may be directed to your favorite non-profit organization.
Thank You