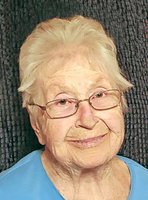 Ione Grogan
Ione Lenora Grogan was born April 15, 1928 at Neshkoro, Wisconsin, the daughter of Alfred Martin and Della Dora (Koechel) Daye. She spent her youth around Neshkoro and attended school there, graduating from Neshkoro High School.
Following graduation, Ione and her two sisters, Marcella and Marilyn, moved to Illinois where Ione met Earl D. Simkins – the love of her life. They were married on October 20, 1956 at Zion United Methodist Church in Neshkoro. Their family grew to include three children: Van, Susan, and Glenn.
Along with caring for her growing family, Ione spent many hours in her garden, growing vegetables to can or freeze, and tending to her beautiful flowers. She also enjoyed doing craft projects and sewing – especially quilting. She was a member of the United Methodist Church and participated in the activities of the church.
When the children were grown and on their own, Earl and Ione decided to do some traveling together in their motor home. The hours and miles flew by as they saw new sites and scenery on their way to Zapata, Texas where they spent several winters; many new friendships and lasting memories were created here. After Earl passed away, Ione married William Grogan; eventually they parted company.
On February 12, 2021, Ione passed from this life at the age of 92 years at Prairie View Nursing Home in Sanborn, Iowa.
Keeping her memory close at heart are her children: Van (Victoria) Simkins, Susan (Richard) Rolander, and Glenn (Kimberly) Simkins; six grandchildren; seven great-grandchildren; sisters: Marilyn Lange, Valois (Gustov) Ponto, Vivian Loomis; sister-in-law, Viola Daye; other relatives and friends.
Preceding her in death were her husband, Earl Simkins; her grandparents, Julius and Bertha Daye, and Henry and Mary Koechel; her parents, Alfred and Della Daye; sisters: Marcella Daye, Elberta (Russell) Reetz; brothers: Clayton Daye, Harold (Mavis) Daye, Dwayne Daye; brothers-in-law: Edward Lange, and Ronald Loomis; nephew, Randall Loomis.