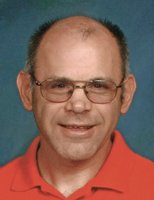 Timothy LeRoy "Tim" Steffens
Timothy LeRoy Steffens, son of LeRoy M. Steffens and Sharon K. (McNeley) Steffens, was born at Primghar, IA on November 15, 1962. He grew up on a farm south of Hartley, IA with his parents and two brothers, Kirby and Pat.
He always enjoyed a good game of Bingo or tagging along with his Mom and Aunt Sue on a shopping venture. When the weather was cooperating, his favorite pastime was fishing – off the riverbank or lakeside, it didn't matter…wherever the fish were biting. Many hours were spent just playing outside with his brothers, along with his faithful dog, Rex…his "best friend".
While Tim was a fan of all sports, he especially kept his allegiance to IOWA Hawkeye football and basketball! He had an extensive collection of Hawkeye memorabilia as well as Minnesota Twins t-shirts and caps. Over the years, he had been a participant in Special Olympics events, something he really looked forward to. He was a member of Grace Lutheran Church in Primghar, IA.
Tim received his education at River Valley School in Rock Valley, IA; graduating in the spring of 1983. He then became a resident at Village Northwest in Sheldon, IA where he met new people and learned new skills. In March of 2019, his health began to decline which dictated a move to Pearl Valley Nursing Home and Rehab in Primghar. He passed from this life at Sanford USD Medical Center in Sioux Falls, SD on Wednesday, December 9, 2020 at the age of 58 years.
Keeping his memory close at heart are his parents, LeRoy Steffens of Hartley, IA and Sharon Steffens of Des Moines, IA; brothers: Kirby Steffens of Osceola, IA, and Pat and his wife, Teresa Steffens of Winder, GA; other relatives and friends.
Preceding him in death were his grandparents: Jack and Leona McNeley and Clarence and Emma Steffens; several aunts and uncles.
Tim will be missed and remembered by all those
whose lives he touched while here on earth.
This is not "Goodbye", but rather, "Til we all meet again in holy perfection".
God bless you all! … from Tim
Condolances may be sent to:
Family of Tim Steffens
140 South 3rd Avenue West
Hartley, IA 51346
Memorial Service at a later date.
Arrangements are with the
Hartley Funeral Home in Hartley, IA.