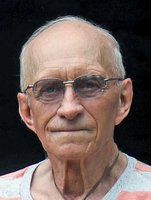 Chris Lee LaCour
Chris Lee "Lee" LaCour, the son of Chris LaCour, Sr. and Elizabeth (Jager) LaCour, was born at Sibley, Iowa on March 18, 1936. Shortly after giving birth, Elizabeth died, leaving a new-born infant to be cared for. It was decided that Lee be raised by relatives, Henry and Susan (Meyer) LaCour. The family lived in rural Lake Park, Iowa, where Lee grew up as most farm kids do - helping out with farm chores and playing outside. He received his education through the Excelsior school system at Excelsior, Iowa, graduating with the class of 1955.
On September 10, 1957, Lee was united in marriage to Gracie Funk at the First Presbyterian Church in Sibley. Their family was made complete with five children: Janene, Gerald, Bryan, Brent, and Jodi. After their marriage, the new couple set up housekeeping at Spirit Lake, Iowa while Lee worked at Berkley and Company. In 1958, he was drafted into the United States Army, serving his country until his honorable discharge in 1960. Lee returned home and the family moved to the Royal, Iowa area where he worked for Merrill Arnold until 1978. From 1978 until 1992, they lived in the Ocheyedan, Iowa area before moving to Sanborn, Iowa. Following Gracie's death in August of 2014, Lee moved to Sheldon, Iowa where he passed from this life at the age of 84 years.
Lee is survived by his children: Janene (Charles) Bergendahl of Sioux City, Iowa, Gerald (Patti) LaCour of Worthington, Minnesota, Bryan (Rhonda) LaCour of Lake Park, Iowa, Brent (Karen) LaCour also of Lake Park, Iowa, and Jodi LaCour of Primghar, Iowa; his grandchildren: Jennifer Bergendahl, Kimberly Bergendahl, Eli LaCour, Catelyn LaCour, Amanda (Brandon) Huisman, Britany (Andrew) Boneschans, Slone (Angelica) LaCour, and Johnathon (Donna) Sweet; great-grandchildren: Braydon Verzani, Isabella Verzani, Johnathon Cozart, and Blake Sweet; sisters-in-law: Donna Bryngelson of Worthington, Minnesota, and Verla (Conroy) Johnson of Spirit Lake, Iowa; brother-in-law, Harold Funk of Lake Park, Iowa; other relatives and friends.