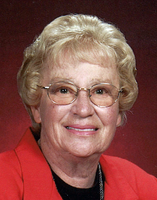 Ruby Elaine Storm
Ruby Elaine Storm, daughter of Ralph and Bertha (Vander Pol) Erkes, was born January 23, 1934 in rural Sioux County, Iowa. She was baptized April 7, 1935 in the First Reformed Church in Sheldon, Iowa. She received her education in country schools of O'Brien and Lyon counties and the Sheldon High School.
On September 20, 1951, Ruby was united in marriage to Earl Storm and they were blessed with four children, Bryon, Bruce, Valerie, and Steven. Earl and Ruby lived on a farm west of Sanborn, Iowa until 2006 when they moved to Sheldon. Earl and Ruby had been married for 63 years when Earl preceded her in death on November 14, 2014.
Ruby was a homemaker and a partner with her husband in the business of farming. She was a faithful member of St. John's Lutheran Church in Sanborn where she had been a member since 1957. She was a long-time member of the Ladies Aid where she had served in the various offices. Ruby enjoyed being outdoors and watching her grandchildren's activities and school events. She was an avid reader and had fun attending flea markets and garage sales. Ruby was called home by our Lord on November 17, 2020 at the age of 86. She lived, she laughed, she loved, and now is rejoicing in heaven with her Lord and Savior.
Ruby is survived by her children and their spouses: Bryon and Letty Storm of Sheldon, Bruce and Ann Storm of Storm Lake, Iowa, Valerie and Robert Peterson of Sheldon, and Steven and Verna Storm of Edelstein, Illinois; 12 grandchildren; and five great-grandchildren.
Ruby was preceded in death by Earl, her beloved husband of 63 years; her parents; a grandson, Quentin Storm; and three sisters and their husbands: Arlene and Dick Lode, Norma and Arnold Vanden Hull, and Shirley and Leonard Postma. Also, a brother-in-law and his wife, Vernon and Betty Storm; brother-in-law, George Heiliger; and a sister-in-law, Elaine Heiliger.