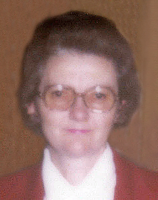 Charlene Joan Hurtig
Charlene Joan Hurtig, daughter of Gus and Vera (Pepper) Westphal, was born on July 5, 1932 near Primghar, Iowa, O'Brien County. She attended school at Archer, graduating from Archer High School. Charlene furthered her education by enrolling at NBT in Sioux City, Iowa. Upon completion, she was employed by Kaiser Insurance Agency for four years, and did tax work for Hubert Schultz, Attorney.
On the 6th of September, 1955, Charlene was united in marriage to Marlo Hurtig. To this union were born three sons: Kent, Kirk, and Kevin.
In later years, Charlene was also employed by the Primghar Care Center in Primghar – a position she held for 20 years and thoroughly enjoyed. When work didn't occupy her time, Charlene loved to be outdoors, whether it was biking, fishing, or simply mowing the lawn! Of course, tending her flower beds was always a "chore" she looked forward to and her efforts never went unrewarded. Indoor activities included dancing, working word puzzles, crocheting, or spending treasured time with her children and grandchildren.
On Monday, November 16, 2020, Charlene passed from this life at the age 88 years.
Keeping her memory close at heart are her sons: Kent of Archer, Iowa, Kirk of Brandon, South Dakota, and Kevin of Cushing, Iowa; one grandchild, Ashlee (John) Keyes; and two great-grandchildren: Ally and Jaylen Keyes of Pierre, South Dakota; other relatives and friends.
Arrangements are with the
Sanborn Funeral Home in Sanborn, IA.