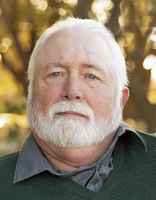 James Theodore "Jim" Wesselink
James Theodore Wesselink (Jim, Theo) was born July 13, 1955, in Sheldon, Iowa, to John and Evelyn Wesselink. Jim grew up in Sanborn. He attended Sanborn Public School, graduating in 1973. After graduation, Jim enlisted in the Navy. During his enlistment, he was assigned to the U.S.S. John F. Kennedy. He completed three deployments on the Mediterranean. After six years of service, Jim returned to Sanborn, where he was united in marriage to Nancy DeBoer. Jim then returned to the Navy. He was stationed in Alexandria, VA, working under the Office of Naval Intelligence. While stationed there Nancy completed nursing school. Later he was transferred to Australia as a liaison with the U.S. Air Force and Australian Navy. While there, they welcomed their first child, Johnathan. Jim retired from the Navy in 1987 and returned to Sanborn, where both of their daughters were born.
Jim was employed at Union Camp in Sibley and AMPI in Sanborn. He retired in 2019. He was a member of the First Reformed Church and the Sanborn Legion Post.
He enjoyed spending time hunting, shooting and reloading ammo, fishing, golfing, riding motorcycle, coffee with friends, and spending time with his family. Jim also enjoyed watching his grandchildren grow up and attending their activities.
James was preceded in death by his father, John Wesselink, and father-in-law, Charles DeBoer.
James is survived by his wife, Nancy (DeBoer) Wesselink of Sanborn, Iowa and their children: Johnathan Wesselink of Sanborn, Iowa, Jaimie Fourie (Brian Lill) and children - Lukas, Kolten and Colin of LeMars, Iowa, Nicole Wesselink (Bryan Markley) and children - Zayden, Harper, Logan and Isabelle of Sanborn, Iowa; lifelong friend, Ron (Audrey) Schott; his mother, Evelyn (Rod) Jacobsma; sisters: Kathy (Larry) Genschorck, Lisa (Robert) VanDyke, Laura (John) Elgersma all from Sanborn, Iowa; mother-in-law, Esther DeBoer of Sanborn, Iowa; in-laws: Karen (James) Venhuizen of McKinney, Texas, Curtis (Julie) DeBoer of West Salem, Wisconsin, Paul (Stephanie) DeBoer of Ankeny, Iowa, Linda (Travis) Schoby of Brandon, South Dakota; numerous aunts, uncles, cousins, nieces, and nephews.