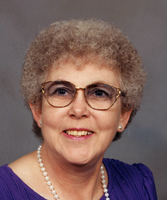 Phyllis Irene Lenhart
Phyllis Irene Lenhart, daughter of Georgie Wayne and Lovicy Amelia (Clever) Davis was born September 26, 1933 at her parents' home near Storm Lake, IA. She and her four siblings spent their youth in the Truesdale, IA area where Phyllis attended school. Her high school years involved cheerleading, going to school dances and roller skating with friends. Phyllis graduated from Truesdale High School with the class of 1950, and furthered her education at Mankato Commercial College at Mankato, MN, graduating in 1951.
On the 8th of February, 1953, Phyllis was united in marriage to Everett Leon Lenhart at the First United Methodist Church in Storm Lake, IA. Five children were born to this union: Alan, Brian, Linda, Rita, and Joni. The couple began their new life together living in Storm Lake while Everett farmed for friends in the area. In the summer of 1954, Everett and Phyllis moved onto a farm of their own near Varina, IA. Phyllis always found it humorous to point out that her first home as a newlywed was a quonset hut! They purchased their first house together in Storm Lake in 1962.
Phyllis was a stay-at-home-mom until all the children were in school; then, in 1965, she began working as an Executive Secretary for Security Trust & Savings Bank in Storm Lake. She was employed there until 1971 when she and Everett relocated to Chandler, AZ. Phyllis took on a variety of clerical positions until, at 52 years of age, she decided to enter the Correctional Officer Training Academy at the Arizona State Prison. While attending the training academy, she obtained the level of Sharpshooter, graduated from the Academy and became a Correctional Officer in 1985. Her children were so proud of her for completing this rigorous course, and teased her about being a 5'2", 52-year-old woman guarding some "very tough inmates". Phyllis retired from the prison in 1996 and started babysitting her grandchildren.
When Everett retired in 2002, they decided to move back to Iowa, settling in Hartley. With retirement, came the opportunity to do the things Phyllis loved most…spending time with her family, grandchildren, great-grandchildren, and her sisters, as well as her beloved dog, Delilah. She spent many hours writing about her life and her family's, recording it all in her memory books. She also enjoyed corresponding with penpals, both in the United States and other countries.
Phyllis was a member of the United Methodist Church in Hartley. She and Everett were fortunate enough to celebrate 65 years of marriage before Everett's passing on her birthday in 2018. Phyllis continued to live in their home in Hartley until she was admitted to the Community Memorial Health Center in Hartley on May 14, 2020. She passed away peacefully there on September 23, 2020 at the age of 86 years.
Keeping Phyllis' memory close at heart are her children: Alan (Lauriena "Rena") Lenhart of Payson, AZ, Brian Lenhart of Hartley, IA, Linda (Abel) Solis of Queen Creek, AZ, Rita (Gregory) Cotter, and Joni (Adam) Lux both of Hartley, IA; 13 grandchildren; 28 great-grandchildren; her sisters: Vivian Sliefert and Margaret (Leonard) Brummer; sisters-in-law, Phyllis Jean Davis (Merlin) and Ruth Davis (Eldon) all of Storm Lake, IA, and Doris Bratsch (Manley) of New Ulm, MN; other relatives and many dear friends who made her life complete.
She is once again reunited with her husband, Everett Lenhart; her parents, Wayne and Lovicy Davis; brothers: Merlin and Eldon Davis; brothers-in-law: Harold Sliefert and Manley Bratsch; and great-grandson, Camden Jacob Ericksen-Cotter.