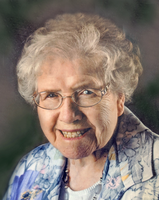 Lillian Augusta Brown
Lillian Augusta Bott arrived May 18, 1921; the oldest of three daughters born to Floyd and Florence Bott. She lived her early years and young adulthood in Floyd Knobs, IN. Lillian met her future husband, Roy Brown, at an amusement park in Louisville, KY. They enjoyed a short courtship before Roy left to serve his country during World War II. After three years of writing letters to each other, they were married on November 21, 1945 in New Albany, IN.
Together, Roy and Lillian made Sanborn, IA their home. They were blessed with sixty-one years of marriage and four children: Francis (Carol Ann) of Cabot, AR, Linda Petersen of Manhattan, KS, Mary (Kelly) O'Brien of Sanborn, IA, and Vincent, who passed away on February 21, 1999.
Lillian loved to bake...her caramel rolls were amazing! Gardening was her passion and she canned everything imaginable for her family. She also enjoyed her flowers - especially her rose bushes. She was a member of St Cecilia's Catholic Church in Sanborn, St. Cecilia's Guild, Catholic Daughters of America, the Prairie View Auxiliary as well as numerous prayer groups.
She was a very loving wife, mother, grandmother, great-grandmother, sister and friend. Lillian knew and lived her faith and never backed away from sharing Jesus and His love with others. She taught us many wonderful life moments to embrace and treasure.
Prairie View Campus had been home to Lillian for the past five years. She always praised the wonderful care they provided for her there. She was able to see her children before passing to her new heavenly home on September 5, 2020.
Those left to cherish her memory are her three children; her sister, Mary Catherine Busse and her family; three grandchildren; seven great-grandchildren; ten step-grandchildren; and many other relatives and friends.
She was preceded in death by her parents, Floyd and Florence Bott; her husband, Roy; her son, Vincent; and sister, Thelma Meddles.