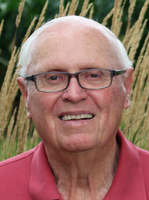 Keith Merlyn Steinbeck
Keith M. Steinbeck was born April 27, 1934 on the family farm near Hartley, IA to John and Myrtle (Williams) Steinbeck. He attended country school and later graduated from Hartley High School in 1953. Keith then enlisted in the United States Army in 1955 until honorably discharged in 1957. He returned to Hartley to farm with his father and brother, Wayne Steinbeck.
On October 11, 1958, Keith was united in marriage to Donna Flickner in Hartley, IA. Together they moved to a farm northeast of Hartley where they kept busy with cattle, hogs, a large garden and other farm work. In 1961, they welcomed their first daughter, Pamela Jean and in 1964, welcomed another daughter, Darcy Jo.
Throughout his life, Keith was active in the local American Legion group, serving as a board member, and also at Trinity United Church of Christ where he was a lifelong member. Together with Donna, he enjoyed bowling league, square dancing, card club, fishing and gardening. Keith and Donna took their daughters on many family vacations and later become regular snowbirds of Arizona to escape Iowa winters. Later in life, Keith and Donna enjoyed attending the multiple activities involving their grandchildren.
Keith's personal hobbies included regular fishing trips with his brothers, brother-in-law and other family, woodworking and spending time with family and friends. His true passions in life were farming and his family.
Preceding him in death were Keith's parents, John and Myrtle Steinbeck; his in-laws, Orve and Tressa Flickner; one sister and her husband, Evelyn and Vernon Kruse; four brothers and their wives: Garland and Ann Steinbeck, Wayne and Reva Steinbeck, Leland and Jean Steinbeck, and Donald Steinbeck; and two brothers-in-law: Gordon Struve and Del Dittmer.
Grateful for having shared Keith's life, and left to cherish his memory are his wife of 61 years, Donna and their two daughters: Pamela Steinbeck of Gilbert, AZ and Darcy (Preston) DeBoer of Hartley, IA; his grandchildren: Tressa DeBoer, her fiancé CJ Cheever of Fairmont, MN, and Jenna and Keith DeBoer of Hartley, IA; one sister, Elaine Struve of Spencer, IA; and one sister-in-law, Sonia Dittmer of Overgaard, AZ. There are also numerous nieces, nephews and close friends who will also miss Keith greatly.