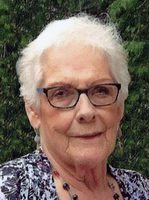 Donna Jean Raymond
Donna Jean (Pry) Raymond, was born July 21, 1934 in Sioux City, IA, the daughter of Glen E. Pry and Lottie L. (Roberts) Pry. She was raised in the Bronson, IA and Sioux City, IA areas. After being diagnosed with a terminal illness, she spent her remaining weeks in the home of her daughter, Deanna, surrounded by her family and friends. She went to be with the Lord on June 5, 2020.
Donna graduated from Central High School, in Sioux City in 1952. She was united in marriage to Dean Russell Raymond on March 1, 1957 at the Little Brown Church in Nashua, IA. To this union two daughters were born: Deborah Jean, on July 1, 1958, and Deanna Jo, on July 1, 1959.
Donna was an active member of the First Presbyterian Church of Sanborn, IA where she served as a Deacon, Trustee, and Elder throughout the years. She was a member of the Sanborn Mi'Ono Club and enjoyed the time she spent with her card club ladies.
She is survived by her daughters: Debbie Moser of Sioux Falls, SD, and Deanna (Mike) Bohnenkamp of Remsen, IA. Donna has two very special granddaughters: Katelyn Jo Bohnenkamp and Abby Michelle Bohnenkamp. She was also blessed with two very special great-granddaughters: KyLeigh Jo Pottebaum and Braelynn Jo Pottebaum. Her girls were very special to her, all six of them. She is also survived by two step-grandsons: Joshua (Melinda) Moser of Rock Rapids, IA, and Travis (Dawn) Moser of St. James, MN, as well as seven step-great-grandchildren, Paige, Earl, Miller, Aaliyah, Lane, Trey, and Brantley Moser.
She is also survived by her brothers: John (Diane) Pry of Merrill, IA, and Clifford (Ronda) Pry of Sanborn, IA; sisters: Kathy Palmer of Sioux City, IA, Dawn Pry of LeMars, IA, Shelly Sommers of Hartford, SD, and Jana (Terry) Fitzgerald of LeMars, IA: sisters-in-law: Margaret Pry of Hawarden, IA, Ardis Dummett of Sanborn, IA, Sherryl (Jack) Jones of Wahpeton, IA, and Barbara Pry of Sanborn, IA: and many special nieces and nephews.
Donna was preceded in death by her husband, Dean; her parents, Glen and Norene Pry and Lottie and Fred Card; brothers: Harold Pry and Gene Pry; sisters: Jeanette (Pry) Erikson and Judy Kay Pry; father and mother-in-law, Merton and Ferne Raymond; brothers and sisters-in-law: Harlyn and Jeanette Raymond, Gayle and Bonnie Raymond, Bill Dummett, Joe Sommers and Andrew Palmer; and nephews: Brian Jones, Trent Sommers and Michael Pry.