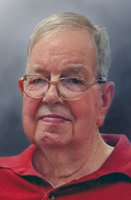 Gerald Nelson "Jerry" Wegter
Gerald Nelson "Jerry" Wegter was born to Gerrit and Nellie (Langstraat) Wegter on a farm near Hull, IA on January 24, 1929. He was baptized in the First Reformed Church in Boyden, IA and attended country school in the Boyden area. In June 1950, Gerald married Rose Ann DeBoom at the Archer Reformed Church in Archer, IA. The couple had three children: Merlynn, Marvin and Geraldine.
Gerald was a long-time resident of Archer and the surrounding area. He had worked as a farm hand near Archer and in Sioux County. He also worked at the Archer Cooperative Elevator for more than 20 years, but he was perhaps best known for the Wegter Repair blacksmith shop which he owned and operated. He also served on the Archer volunteer fire department including more than 20 years as Chief, and served multiple terms on the Archer Town Council. He was a member of the Archer Reformed Church. When his work load and time would allow, Gerald enjoyed woodworking. He built three boats, kitchen cabinets for their home, and made new stocks for several of the guns that he repaired. He enjoyed doing things with his family including camping, boating, fishing and stock car racing.
On Thursday, May 7, 2020, Gerald passed away at the Community Memorial Health Center in Hartley, IA at the age of 91 years. He is survived by his wife, Rose Ann; son, Merlynn (Cindy); daughter-in-law, Denise (Marvin); daughter, Geraldine; five grandchildren: Jason (Holly), Brianne, Sarah (Christopher), Michael, and Heather; four great-grandchildren: Miles, Ember, Henry and Eira; brothers and sisters-in-law: Phyllis DeBoom, Marlene Zevenbergen, Gary DeBoom, Ron (Jenny) DeBoom; and numerous nieces and nephews.
He was preceded in death by his parents, Gerrit and Nellie Wegter; his brothers and sisters: Egbert (Marie) Wegter, Johanna (Vernon) Ver Steeg, Pete (Marie) Wegter, Wilber (Hazel) Wegter, Fanny Wegter and Esther (Lloyd) Vant Hul; brothers and sisters-in law: Darrell DeBoom, Don and Maureen Miller, John Zevenbergen, Jean DeBoom; and his son, Marvin Wegter.
In lieu of flowers or gifts,
please consider making a memorial donation in Gerald's memory
to the Archer Fire Department or the Archer Reformed Church.